LDpart NEWS  15 Sep 2016
WE HAVE JUST RECEIVED FRESH STOCKS OF TEE BAR SET SCREW IN STAINLESS PART 517529SS
POLISH THESE UP TO REPLACE TATTY CHROME
LDpart NEWS  15 Sep 2016
We have a number of products back in stock for example :-
Brake Master Cylinder Repair Kits,
Caliper Repair Kits,
Gearbox mounting kits with poly washer,
Carb rod ends in metal,
Bolt HB819 5/16 x 2 3/8
LDpart NEWS  7 Sep 2016
THE SHOP SITE is now running normally after migration of the entire site to a new server. everything seems to be working as previously.
some more parts have arrived in the meantime
This include Stainless Steel Sleeve clutch Master cylinders, Parts to make up cooling hose kits, Brake Calipers reconditioned, Air box Elbows and O rings for the oil pump relief valve.
We also have all the parts to make up some more gearbox rear cradle mounting kits so these will be restocked very soon.
LDpart NEWS  1 Sep 2016
We have decided to make this news page more of a blog.
So very short twitter like updates instead of lengThy pages at huge intervals
This week we have just moved the site to a new server. this seems to be working fine and it is probable customers noticed nothing
However we need a break so orders tomorrow will be sent on next tuesday.
Then we are back to normal.
LDpart NEWS  13 July 2016
at long last another news page
What have we got for you?
Rotor Arms
Stag Values
New Products
Diagnostic Tool for your eurobox
Oiling hinges
Bulbs in warning Cluster
Rotor Arms
We have now solved one of the mysterious "cutting out when hot" problems.
It was not the Lumenition magic eye as we thought - see below.
We found that the type of rotor arm that has a rivet is made of plastic with a high carbon content.
After time this starts to become conductive.
The rivet holding the top arm does not help. It allows the high voltage spark to take the shortest route to earth. NOT via the spark plug but through the plastic and down to the distributor drive shaft. Well well no wonder that was difficult to find.
NOW SOLVED
We have now purchased and offer specially made rotor arms that combat this problem as the material used does not become conductive and a hold down rivet is not used. These are expensive but are made by Distributor Doctor to OE standard. Make sure you have one of these if you have a Triumph engine or v8 with 35D Lucas distributor that was originally designed for points. The Rotor arm with the slimmer sized tail or balance are not correct for Distibutors originally designed for points.
Look for GRA2133D in this site. All is explained there and your hot running problem solved when all else fails.
Stag Values
Just a mention that the Classic Cars Weekly journal had a headline recently
"Stag Values Set to Rocket"
Time to start improving your car as it is going to be  a good investment and much nicer to drive as well.
New Products
Here is a list of some items that have been added recently
Front Seat back Clip
Front seat back Chrome self tapping screw
Chrome plated Cup washer for this
New brand of ATF fluid now in a 1lt bottle
Brake Servo Back Gasket
Inner Throttle cables LHD and RHD
Small size Battery charger
Hood latch locking plates or receptacles
Standard sized Head Gaskets to Payen quality level
Brushes for the wiper Motor
Valve Pallets or shims
Manifold Bolt Kit
Diagnostic Tool for your eurobox
Save money and understand and clear codes on your modern car
We are pleased to announce the launch of the Foxwell NT510 Diagnostic Tool for Car Enthusiasts at only £169.00 inc VAT.

The Foxwell NT510 offers diagnostic coverage of ALL car systems. It displays live sensor data and reads/clears fault codes. It also allows resetting of service lights, parking caliper windback (for brake pad changes) and many other calibration/servicing functions.

The NT510 is supplied configured for a single make of car (other makes can be purchased at a later date if required). The current makes available are:

- Land Rover / Jaguar
- BMW / Mini
- Honda
- Toyota / Lexus
- Fiat / Alfa Romeo
- Hyundai / Kia
- Ford
- Vauxhall / Opel
- Chrysler
- VW / Audi / Seat / Skoda
If you are interested in this please contact us with an email on our contact us page.
Oiling hinges
Just another mention covering oiling Door hinges. The manual says we should do it byt does not say how. Well on one hinge the pin is exposed so it is easy to let oil seep into the sleeve part.
On the other the pin is completely covered in by the sleeve but did you know?? There is a little notch in the sleeve at the top and that is where to stick the spout of the oil can. Another little "How to " gem.
Bulbs in warning Cluster
The type of bulbs supplied now are too fat to fit the warning light cluster bulb holders.
To make them fit just ease out the hole on the copper bulb holder with a sharp craft knife.
Take away several slivers of copper all the way round and after a few shaves you will find the bulbs fit!  Another useful how to.
Somehting else you can do is fit a 2.2 Watt bulb for Flasher warning. You will need to modify the bulb holder and change the green filter (which is thick) for a piece of 7 up plastic bottle material (Thin and Green) as the bigger bulb is long and will not fit with the original filter plastic.
LDpart NEWS !  01 January 2015
HAPPY NEW YEAR
At last – we have found some time to write a news page
Topics covered
Cars stopping when hot? Coil boil or maybe not.
Fake parts
City Link
Fuel Pumps
and
Twitter     for the Latest News now check @LDpart
Its hot so stops!!!
It took a while to solve this on our car. We got there in the end.
The car would not take off strongly and then stop when hot.  Let it cool down for an hour say and it would go fine for another 45 minutes.
Then start failing or missing under load – typical weak spark symptom.
After much head scratching and a new coil we found a small paragraph in the Lumenition web site. 
A condition described there, which is said to be rare, match the symptoms exactly.
Solution proposed was to replace the magic eye, or optical eye.
After very many years – in our case 25 years – the transistors which generate the beam start to fail through heat and age.
A new eye was fitted and Bingo the car starts better than ever – instantly and strongly.  So although not tested the way the engine starts is enough to suggest a massive improvement in the ignition department.
fake parts
What are they?
Poor quality copies of fast moving parts for Modern Cars that have high numbers on the road. Parts that are essentially dangerous and will fail under stress or within a short life.
It is doubtful it is something to worry the Stag fraternity as there are not enough cars on the road to make faking worthwhile but if you have a Modern car which exists in large numbers then it pays to make sure the garage that fixes it can show you the boxes of the parts they use and that the prices of the parts are not absurdly cheap. If your car is serviced by the official dealer the risk will be very low indeed.
City link
One of our suppliers used to ship goods by City Link.
About 5 years ago we asked suppliers not to use them.
They were expensive in our view, would never leave goods without a signature from the exact delivery address, and used vans that got stuck in the snow, so when Fedex and DHL were zooming around, City Link were scheduling our orders for return to supplier as they couldn't get past the snow!!
So we organized our own courier to collect goods.
So this was rather a good decision.
We do not think the drivers made redundant will stay out of jobs. The other couriers will surely pick up the City Link work and they will need to take on more drivers. They can only do a finite number of drops in a day.
Fuel pumps
A Fuel delivery problem is not always the pump.
We have come across a number of cases in the last 12 months where the fuel line is the issue.
Rubber connectors breaking down internally. Clips cutting through old rubber. Rubber fuel hose breaking down internally.
Even if the problem turns out not to be the pump, it is very advisable to always carry a spare pump in the boot.
There is a useful space in the Left Side rear wing behind the trim board.
LDpart NEWS !  20 October 2013
Google analytics
An astonishing concept.  This systems tells us quite a bit about how our website is used. The pages that visitors have been looking at.  The top page in the pareto is "this one". More visitors go to this news page than any other page.
In the last 30 days we have 11,881 page views on the site and the page with the most views is this one!
The second most popular page is in line with our expectations it is our Home page.
The third most popular page this month is Engine Bay/Electrical. Thats probably understandable.
Only another 11,878 to go.
What is demonstrates is the extraordinary breadth of need in world of Stag Owners who visit our site.
With about 1000 parts on offer it seems everyone of them gets a look in at some stage during the month.
Google stagalytics
Stagalytics. Not things you find in limestone caves. No…..we suggest it is the same sort of statistical data about stag troubles as we find in Web site stats.
There is regrettably no system to monitor this. Perhaps there will be one day. However we can have a guess from our own knowledge and experience.
What is the most common Stag problem.
Strangely enough, tales of overheating, boiling and chucking coolant out are remarkably rare these days. We hear of one now and again but far more common are problems of cars not going very well, losing power and not starting or suffering misfire.
This of course is always down to two possible causes. Insufficient/excess fuel or lack of spark.
fuel supply
Fuel delivery systems are on the increase as problematic.  The main causes here are
Blocked fuel lines.
Incorrect or worn Needle valves.
Fuel lines that block when they get warm as the compression clips clamp down on ancient and  collapsing rubber fuel hose.
Internally perished rubber connectors.
Blocked fuel filters.
Pieces of silicon sealant in float chambers. 
Rust flakes swimming around in the old petrol tank and blocking the pick up.
Inertia switches that need a clean inside (just pry out the base, it is one of the easiest jobs on the Stag).
Air leaks on the Fuel Pump Banjos.
We will save the ignition causes until next news.
LINKS PAGE
We see quite a few visits to our links page. We have reently updated this, the principal change being the addition of a link to VRC1986.
This is a restoration company on Britains South Coast. One of their mainstream activities is the restoration of Stag Hardtops. They also may have some of the rarer parts for those of you with the confidence to attempt the challenging task of restoring a Hardtop.  All the clips and rivets can be obtained from Ldpart.
Another link is to S and T Electroplating near Yate – Bristol.  Their Chrome Plating is very good and they can repair Stag Rear Bumper Corners with holes in them that look like scrap.
If you have original bumpers get them replated at S and T as they will last and last.
Our own Stag had the centre part done in Buckinghamshire and the corners by S an T, as the Bucks people couldn't begin to work on them.
Ten years later most of the chrome had peeled off the centre section. The corners are as new with the exception of 3 or 4 tiny blisters at one end of one corner. 
enough for now
This is enough for now. Happy Stagging and if you are in UK, and Google Analytics tells us most of you are, then be sure to get ready for a snowy winter by curing leaks and keeping the Stag nice and clean and preferably in a garage. Check under the footwell carpets for signs of any water ingress and if you find any send us an email, we will help you track down the leak.
Also get your battery checked at a Garage. To keep your battery going for years try our Battery Charger, just type Battery into the search box and hit search.
LDpart NEWS !  18 September 2013
"WRITE OFF" Warning Light
This is about your modern car, if it is in UK and later than 04 year registration.
If you car has to be submitted for an MOT and the Airbag warning light is on – it is a fail. If the light cannot be switched off by dealing with the seat belt sensor or other sensor, then the car is..yes.. a Write Off.
If your car is earlier than 04 then its legal with an Airbag warning light showing.
So it is just conceivable, that as most Air bags have a service life of 15 years that by 2019 we will have seen the end of the classic car era.
If, of course, the airbag warning light never shows and the car keeps passing MOT tests it could become a modern classic.
One of our customers is working on a Panhard from 1899. 114 years old.
Will an airbag last 100 years?  Maybe one or two will!
We just don't know, but if that AirBag warning light comes on and cannot be fixed, that's it, in a post 2004 car. 
The car is probably useless being irrepairable because Airbags are exceptionally expensive, even if they are available, and anyway, does your garage or dealer know how to change them? 
So keep that STAG in good running order as one day it may have to become your daily driver again.
YOUR LIST
Unfortunately the summer appears to be over.
This means it is time to drive the car and make a note of everything that needs doing over the winter.
Triumph Stags are supposed to be serviced with a 12,000 mile service once per year and when that is undertaken all manner of other tasks will reveal themselves.
Never ending isn't it?
SPARK PLUGS PLUG
Spark plugs are in stock again.  BP5E that is.
We are offering two postage options on them now as with our usual service we cannot compete with those suppliers who send them by second class post.
So you can choose to have them tomorrow or in a few days time, but the latter will apply to the whole order if it includes other items.
ebay     Yes a wonderful place.
But we do encourage you to check elsewhere before you buy.
WHY?
Because there are four tests.
Is it the best price?
Is it the most suitable example of the item needed?
Is it the only item needed and can you avoid excess postage on multibuy?
Is it going to arrive in time?
If the items you need pass all these tests on Ebay then Ebay is the place to buy.
But in many instances it will not be.
LDpart NEWS !  1 June 2013
AVAILABILITY
In the last few months we have been suffering availability problems with suppliers.  The normal leads times have extended beyond our forecasts.
In the case of Reconditioned Hydraulic parts like Master Cylinders we are aware that a supplier in UK has ceased activity so adding to the workload of other suppliers.
We were advised our supplier would be expanding their staffing etc to cope with demand but as ever this has not gone according to plan and a new facility is now delayed a while.
So we have sent extra core for reconditioning in order to allow for the extended supply lead time.
As regards other suppliers we feel that the recession has left a bit of an aftermath in that suppliers have reduced investment in stocks.
So we have found our lead times considerably extended as suppliers fill order books before committing to inventory.
The upshot of this is that we are having to wait for supply longer than we forecast.
Parts are beginning to arrive however and we currently have 25 out of stock items from our range of about 900 parts.
Let's hope the suppliers confidence levels will increase as the Global economy slowly edges out of the doldrums. 
TAXING TIMES  from Aftermarket Magazine
Admin blunder leaves old-timers with no road fund licence
THOUSANDS of classic owners could struggle to get their newly MOT-exempt cars taxed because of ongoing "technical issues" between the DVLA and VOSA, according to a story from industry body IAAF.
Owners of cars manufactured before 1960 have been complaining of problems obtaining their tax discs due to the DVLA's computer systems not recognising the MOT exemption, which was introduced last November.
The DVLA admitted that it had encountered "technical issues" regarding its computer systems recognising the MOT exemptions for some pre-1960 vehicles, but added that it is working on rectifying the issue and that it should not arise again when the vehicles affected are relicensed. While it was unable to say exactly how many vehicles were affected, it said that the problem only involved pre-1960 vehicles where the MOT was due to expire around the period the vehicle was being licensed and that a "very low" number of owners would encounter problems.
David Whitbread of the DVLA said, "The Electronic Vehicle Licensing system is linked to the MOT database run by the Vehicle Operator Services Agency (VOSA). Due to the short period of time between the announcement of the exemption in February and its introduction in November, the DVLA was unable to make the necessary system changes to remove the usual MOT check that vehicles go through before a tax disc is issued.
"Customers who are unable to licence via the Electronic Vehicle Licensing system can licence at a Post Office but they will require a completed V112 (Declaration of exemption from MOT testing) where the customer declares that their vehicle is exempt."
Classic car enthusiasts are understandably annoyed. MG YA owner John Morris said: "Getting a tax disc has been a nightmare. I tried to tax my MG online and the system wouldn't let me do it, so I rang the DVLA, who told me to go to a Post Office to tax it as their computer system does not recognise the MOT exemption."
"I went to the Post Office, but was refused a tax disc because the staff there said I needed an MOT. I've been going round in circles, bit I've still not got any road tax for my classic!"
Although pre-1972 vehicles are 'tax exempt' they still need to display the disc to legally be allowed on the road. Police will certainly pull over a car - and can have it impounded - if the licence is not on the screen.
from Aftermarket Magazine June 2013
Triumph Stag in
Top 10 classic car survivors
Go to the following link for the Picture Story in the Daily Telegraph
http://www.telegraph.co.uk/motoring/picturegalleries/10059925/Top-10-classic-car-survivors-in-pictures.html?page=0
Triumph Stag is second with Lotus Elan First and Scimitar Third
(Aren't two of those fibreglass???)
LDpart NEWS !  10 Oct 2012
My Goodness we have been busy
Too busy to write any news! However at last a quiet period arrives to give time to review what is going on in the world of Triumph Stag and the world of Ldpart
First some more information about the good old UK MOT
MOT:   WHATS NEW?
Consumers are being warned by Trading Standards about New Style Certificates.
The NEW STYLE certificates are giving concern to Police and Trading Standards because of the ease with which they can be forged.
Also, that there is a lack of awareness that paper documents are no longer proof of the existence of a valid MOT certificate.
Apparently when the NEW STYLE certificates were implemented they were only intended to be a receipt for the MOT.
The actual record and full details are stored online at the VOSA website.
http://www.direct.gov.uk/en/Motoring/OwningAVehicle/Mot/DG_10020539
To check the status you will need the Registration number and the last Test number (12 digit)
At the end, Purchasers whether Private or Trade – should not rely on printed MOT certificates when buying cars.
US car parts unions demand import clamp
UNIONS in the U.S. have started a campaign to persuade President Obama to clamp down on imports of Auto Parts from China, which they said, are unfairly subsidised and threatened 1.6 million jobs across all 50 States.
China and the US currently enjoy a strange symbiotic relationship, says Aftermarket Magazine. China is the biggest creditor to U.S. but the trade deficit between the two nations stands at $29.4 bn leading to a charge from Obama's critics he is not being firm enough.
Does it affect Classic Cars? Not really one supposes except you can now buy an apparently very nice aluminum Radiator for the Stag from Hong Kong?  A little akin to the stainless steel bumpers from Vietnam.
It's astonishing that Stags should create such interest in the Far East for parts manufacture.
EU Commission and Classic Cars
The European Commission appears to propose a ban on Modified Cars – and then backpedals.
Que Passa?
Just when we thought the excesses of Brussels were over along comes a new raft of proposals that affect every part of the Vehicle Aftermarket.
Proposals to eliminate modified cars are the most serious threat.
Classic Car Magazines are paranoid that the proposal to remove MOT tests for Vehicles older than 1983 is a way of enforcing Mileage limitations and "summer only use".
Magazines catering for Modified cars think these cars will be banned altogether.
In order to quell fears the EU has issued the following unsigned statement.
"Reports in the press that the EC has proposed to make modifications to cars illegal, or to ban Classic cars unless they are unchanged since manufacture, are entirely wrong.
If agreed by member states, the EC proposals will not make any difference to MOT testing in UK except to make Classic Cars more than 30 years old exempt from MOT testing if they are not used day to day.
The Commission is writing separately to all Newspapers concerned, none o which checked the facts with us before publication."
So now it's a case of wait and see after the reshuffle changes in the Department for Transport have fully taken effect.
SPARK PLUGS
"We were hopeful about bringing down the price of Spark Plugs some months ago due to a change in EU legislation"
However it is with great regret that although we can reduce the prices we cannot reduce them enough to compete.
So we suggest buying a set of 8 x BP5E Spark plugs from Ebay when you need them.  
You can get them at £13.35 inc Post and VAT
Our best price for this is nearer £15.00 so we have decided to withdraw them from our product offer.
The ebay provider who sells them clearly orders them in 1000's for huge volume discount way beyond the international market demand for Stag.
OLD NEWS FOLLOWS
LDpart NEWS !  29 Jan 2012
MOT:   WHATS NEW?
There are some new rules in the MOT testers Handbook for 2012
You might like to know what they are
 Dashboard lights
Mostly this is about warning lights for ABS Airbags Power Steering but for the old'uns, the High Beam Warning lamp must work and also the illumination for the Speedometer. 
That will clearly need a dark testing station as most Stags have dash lights that are barely visible.
You can brighten them up.   Search our shop  and we can send you a piece of aluminium tape.  Stick this around the inside of the binnacle and the instrument will be twice as bright. Take care not to short anything out.
Old bulbs usually have tired emissions so change those as well.
Battery security
I always thought this was an MOT requirement until I checked it to answer a question on the Stag digest a few years ago.
Well, it is now. 
lights
Two parts to this which you may like
If your light is repaired in some way with tape or film it will still pass as long as light output is not reduced.
If it is reduced, then it's a fail
Secondly HID upgrade kits are fine but only if they have EU Type Approval.
Any type approved installation will have headlamp washers and a self leveling mechanism.
Towing electrics
Only 13 pin Euro Socket will be tested as there are too many wiring variations with the 7 pin type.
However all sockets will be checked for security and condition.
wiring
Bare, chafed or otherwise dangerous wires are now a valid reason for a fail.
brakes
Only applying to late model vehicles, footbrake efficiency will rise from 50% to 58% in 2013
catalytic converter
If the car was designed to have a catalytic converter one must be present despite emissions readings.
OTHER
Power Steering Fluid must be at the minimum level
Brake fluid level warning lamp must not stay on
Rear doors must open from outside
It must be possible to secure the drivers seat in 3 positions backwards and forwards
If the car was designed to have an Airbag then it must be fitted and the light out.
PHEW it almost sounds like a test in it self
AND FINALLY -  until end march 2012 any of the above can be marked as an advisory as a running in period.
we will have some more news very soon to explain why, due to changes in EU legislation LDPart has the chance to become the best deal online for Spark Plugs and will at last be able to compete with EBAY ROCK BOTTOM SELLERS
That's all for now folks    
LDpart NEWS !  20 Nov 2011
ANTIFREEZE Please
But which one should I use?
There are basically two types in UK.
The Blue or Green 2 years protection.
The Red or Pink 5 years 150,000 miles protection for aluminium
Stags were built when the only type available was Blue or Green 2 year protection.
As cylinder heads are getting scarce now it is best to change this type every year as the corrosion inhibitors gradually degrade over time hence the limited life protection.
OR
Change to the Red Pink type.
This is a far superior product for keeping heads corrosion free and radiators unblocked.
HOWEVER
It is an irreversible change. You can never go back to Blue Green
It requires a two part chemical full flush before installation.
Ideally it needs a header tank as is doesn't like being exposed to air in the system.
Once a change to Red Pink is made all that is necessary is to keep it up to strength and 50% is recommended.
Also use distilled water in the mix and not tap water which may have unwanted elements like limestone hardness.
SO if you have bought a Stag that has Red Pink fitted, you cannot go back to Blue or Green.
All you need to do is keep it at 50% strength. You probably never need to flush your system again as the radiator tubes stay really clean with this coolant.
 New Products in the shop since 3 Nov 2011
STRUT Top mount top washer
STRUT Top mount top washer (d hole)
Various plumbing fixtures to assist with header tanks (Search Header)
LDpart NEWS !  3 Nov 2011
Clear your googles
Goodness its now OVER 3 months since we updated any News.  However we find a bit of time – until those "Winter Projects get going"
Recently we found GOOGLE search engine was getting really sticky when trying to use the search box or edit what was in the search box.
In Google type "SLOW TYPING IN GOOGLE"  
As soon as you get to "SLOW TYP"  its there.
So there are many people puzzled as to why the typing has gone adrift.
We discovered it is caused by something called GOOGLE INSTANT
This is a kind of predictive text editor and unless your broadband is 40megs it will seriously hamper your progress.
YOU CAN SWITCH IT OFF
Just hover over the Cogwheel top right of google screen, click, select "SEARCH SETTINGS" scroll down to GOOGLE INSTANT and deselect it
JOB DONE
You are now back to high speed typing in Google.
Tell everyone you know.
HEADER TAnk
So peeking into the Forum shows there is still discussion about the cooling system and header tanks.
At LDpart we have quite a few items related to fitting your own header tank. Type "header" into the search box and hit the radio button for "ALL" and see a variety of plumbing bits you may need.
We suggest the Mercedes 190D tank for RHD cars as it uses the Stag Radiator cap, offers visual level check, and has an analogue level sensor which can connect to your oil pressure warning light or the temperature warning light in the Mark 1 warning light cluster.
We do think a header tank is essential in a Mk2 Stag. This is the developmental point when the Pressure cap was moved FROM the Radiator TO the Bottle for a fully sealed system. In the Mk1 its not fully sealed, the regular exhaust of coolant into the overflow bottle and suck back is the way this works. 
However a Header Tank in either system is a great improvement in a cooling system that is marginal.
Pumping in vane 3
Having seriously reflected yet again it seems the number of vanes on the water pump is not important.
WHY ?
We have two coolant containers.  The engine and the radiator.
The engine heats the coolant up slowly.
The radiator cools it down quickly.
The pump moves the coolant between the two.
As long as the water moves from the engine to the radiator before it boils it seems unimportant as to whether it moves it faster or not.
The faster it moves the less time it has to heat up but also to cool.
So it seems that the difference between the 6 and 12 vane pumps of a few litres per minute is not major in terms of making a difference.
We remind readers that our own investigations reveal the clearance between vane edges and cover is much greater on the 6 vane, which most likely accounts for its slower pumping.  The 12 vane simply fits more snugly to its cover.
A further point concerns cavitation at high revs where 6 vane pumps are preferred although we feel that cavitation is only likely to occur if air is in the coolant and a header tank could prevent this.
Also bear in mind that, particularly with 3 speed autos, the faster the car goes the hotter the engine gets.
Also at tickover the crankshaft driven fan only runs at crankshaft speed.
For those last two reasons the replacement of the engine fan with a 16inch 25amp electric fan seems to us an essential modification as the Original Design does not provide enough cooling except on cool days.
This is why it is referred to as Marginal.
At the end we think it doesn't matter which pump is installed, and that it will make very little difference if any.
New Products in the shop since June 2011
Discs for holes in floorpan
Washer for seat buffer under squab
Orifice or jet for carb needle
Bulkhead pad pop rivets
Wiper motor parking switch
Speaker to fit mono dash top situation
Auto gearbox front seal
Dowel pin adapter plate
Flat washer 7/16 x 7/8 wp60 or wp46
Soctfl wiper blades trico speedblade type
Model car ld13 rvc434h
Wiper motor strap stainless kit
Twin points condenser GSC107
1/4 bsp hosetail for Mk1 Rad cooling mods
LDpart NEWS !  18 Jun 2011
Pumping in vane 2
In the article below (LDpart News 13 Mar 2011) I should have said "You probably need to ask Dr "BRIAN" Cox", thanks to Mr. Garrod for the correction.
Goodness its 3 months since I wrote any News. That's because we have been so busy with orders.
Occasionally I take a peek into the SOC forum and saw the recent questions about 12 and 6 vane pumps.
Also I saw the mention of the error concerning Professor Cox.
However the answer remains the same.
It still takes longer to heat water or coolant that is 50% water or more from 95 to 100 than to cool it from 100 down to 95
The SOC magazine in April 1994 showed the results of flow with 6 and 12 vane pumps.
The 12 vane moves more coolant in a given time. It will also move it more smoothly, less pulses, although I don't think this matters.
Our own tests show the impeller fits to the cover better in a 12 vane set up.
However over many years we do not have any real evidence to suggest a 6 vane pump is better than a 12 vane pump or vice versa.
Our Machining Company that cuts impellers to receive ceramic rings is quite clear that the 12 Vane pumps are a better quality item, better made.
My instinct is to go with 12 vanes.
The reason for this is that the Stag cooling system is marginal.  It means the radiator isn't big enough. It does not provide enough cooling.  If it did the thermostat would shut it off more than it does.
The high heat from the stag engine seems to be due to the Siamese central exhaust ports. Too much opportunity for metal to get too hot, so they need as much cool coolant thrown at them as possible.
Electric shower
Consider an electric shower.  If the pressure is high and the flow too fast the water doesn't heat up.
You get a cold or luke warm shower.
Not good for your ablutions but it is what we want in a Stag engine.  Slower water = more time for that water to get hot.
Faster water = Less time for it to get hot
I am sure it is not that simple but I'll need Dr Brian Cox or any budding physicist to tell me why.
NEW IN THE SHOP
 We have over 700 products on offer now and some of the new ones are as follows
Chrome Gear Knob
Steel Floor Disk in two sizes for those large holes
Zinc Plated Long Manifold Bolt – hhmm its not a bolt its actually a Set Screw. 
New "No need to cut " thick Thermostat gaskets
H4 bulbs  -  Needed for the light units that are availalble now
Pad for Wiper Motor
Twin clip 5/16 for twin runs of fuel pipe
Hood interior side rail finishers.  Plastic grainey effect.
Ultra quality Hard top Zig Zags with extra thick chrome for long lasting perfection
Fuel Pump Banjo Bolts
PDWA connector
Three New Hoses for Air conditioned Cars the ones that feed the heater unit.
Those Rivets that hold the tonneau stainless trim in place.  12.8mm
Grub Screw for the Carburettor Needle
Carburettor Needles
Star Washer for the Needle Adjuster Screw
That's all for now folks.
Back again when we find a moment.
LDpart NEWS !  13 Mar 2011
Pumping in vane
It is an established fact that minute for minute, 12 vane water pumps pump more coolant than 6 vane.
They shift a higher volume of coolant. 
Is this good or bad?  You probably need to ask Dr Simon Cox when he has finished explaining the universe will end in several trillion years.
Coolant heats up more slowly and loses heat more quickly. 
It takes longer to heat water from 95 to 100 that in takes for 100C boiling water to get from 100 down to 95
You will know this if you heat your reheat coffee in a microwave.  It gets cold very quickly and the colder the room the quicker it cools.
So the more hot water you can get into the radiator the better. (Or is it? Back to Dr Simon Cox)
However whether or not you use a 6 vane pump or 12 vane pump it seems to make little difference to the cooling characteristics of a given car.
The burning question is however "Why does the twelve vane move more coolant?"
We think we have the answer which is a bit of a head banger.
The 6 vane impeller, with a top nut added, when offered into a 6 vane cover, demonstrated a huge clearance between the vane edge and cover beveled face.
When undertaking the same comparison with a 12 vane cover we found the gap between the vane edge and the bevel is far less.
So it is simply a matter of fit.
We are willing to bet that if each vane of a 6 vane pump could be built up with weld and shaped about 3 mm higher it would move as much coolant as the 12 vane   'Doh!'
However, there lurks the awful threat of cavitation.  Back to Dr Simon Cox again we think. What is needed is a glass water pump cover, then we could see what was going on.
New photo
Yes we have a new photo of the old beast, the old beast that was my daily transport for 17 years and covered 100,000 miles in that time after already having covered 100,000 with earlier owners before 1990 when I bought her. Every part fitted in 100,000 miles is the same offered by LDpart.
In the last 20 years we have seen £24,000 spent on servicing and repair and some restoration. That's £0.24 per mile
By comparison my 150 BHP Octavia has seen £5000 in spend for the same distance but a third of the time.
However on the Stag the cost includes engine rebuild with rebore, new automatic gearbox, doing the heads after 50,000, all suspension, bumper chroming, two differentials and two propshafts, new hood, Kenlowe fan, petrol tank, complete overhaul of brakes twice that is Disks Drums Master cylinder etc etc.
It's basically only the body and lamps and grille, dashboard, seats and hood frame that are not changed.
You do not have to do that on the Octavia
The engine will last 500,000 miles, so we are told. The body is guaranteed for 10 years so it is going to last 15. There is no Chrome or hood. 
This car is boring however despite its stunning 0-60 time. It is the first car I have ever owned that needs a retrim before anything else.  So off to the leather guys with that one.
It will never have the appeal of the Stag.  I will take another look at that photo now.
LDpart NEWS !  27 Feb 2011
Wrong Part Chaos
We read in the trade press about an Audi suffering loss of power at 70mph.
The independent workshop diagnosed a clogged EGR valve but after changing that still no improvement.
Then they changed some of the sensors around the car and finally fitted a new ECU at ever mounting cost to the owner.
They still had not cured the problem!
How this owner kept sane is beyond me.
Anyway the garage and owner are now on First name terms and the garage is thinking 5 litres of petrol and a match is probably the solution.
Then the car came back with a handbrake issue.  On fixing this, it was found the wrong brake springs had been used to fit the brake shoes by some anonymous previous operative and the excessive brake force in one corner was enough to send the wrong signals all over the car and cut power at 70MPH.
After the correct Brake springs were fitted the car behaved perfectly.
It reminds me of our Skoda Dealer. We said the cruise control is not working.
They said there was nothing wrong with Cruise control but they had found a faulty brake light switch.
They changed it, and guess what. The Cruise Control started working again. Worse still the dealer was surprised.
MORAL of these tales
1) It is often nothing to do with what you think it is.
2) Very often all other problems on modern cars come back to brakes
3) Never use very cheap or incorrect parts. This will cost far far more in the long run.
 Mods to rockers
These are available brand new but so expensive.
Why change the ones you have now?
Because, while the patina of age is all very well, the rocker part of the window switches takes this concept too far and the switch rockers become faded, and develop a matt bloom finish. This does not look very attractive.
However the replacements are very expensive.
We are thinking of having the rocker part made to allow refurbishment of old switches.
We would have it make in shiny black plastic.
The insides of the switch are easy to overhaul.
The switch body pulls out of the bezel part by closing the retaining barbs each end inwards and pulling out the body.
The Rocker can now be pryed off the body.  
Under the rocker are two tiny spring loaded plungers in a small white housing.  Be careful collecting up the plungers and springs.
Then there are two copper W shaped rockers. They have contact pips at the ends.
Inside the switch body are also contact pips.
The body and the W rockers can all be immersed in Coca Cola for 24 hours.
When they are removed and dried the pitting in the top of the copper pips can be seen where the switch has progressively arced more and more as the contact area reduced.
The pips will need dressing flat with a flat end stone in a Dremel type electric tool.
Then the W rockers can be checked for straightness along the length, and easily straightened if necessary with pliers.  The switch can be reassembled and will work properly again.
There is nothing to wear except the points of contact. Re-flatting contacts will give thousands of miles usage although eventually there is a limit to how many times a contact point can be recovered.
 So all we need now is a nice new shiny black rocker.
You can polish the old ones, but unlike the Bezel plastic which polishes up well with T Cut on cardboard, the rockers are made of a different plastic and it will never polish to a durable finish. Within a few weeks it will bloom over again.
Only time will tell if we are off our rocker with this idea.
LDpart NEWS !  13 Feb 2011
Traffic JAM
A few months ago our Web Hosting service discontinued Statistics as they were too resource hungry.
We were asked to use Google Analytics instead.
It tells us a whole heap of information about you, not you specifically but you our readers.
Where you arrive from to get to our site.  Over the last two days 20.69% visits were initiated by the SOC Forum.
Then 31.90% were from Internet Search engines.  This is very much not due to surfers searching on generic keywords like Stag Parts but very specific phrases like part numbers or 
jwis timing chain for mini
This particular example is not going to result in a sale we feel.  However we learn these timing chains are used on Mini as well.  Not sure which Mini it is.
The vast majority of visits to LDpart, being the remaining 47.41% were from direct traffic. 
How kind of so many of you to have the site bookmarked or type in or click on www.LDpart.co.uk
Bounce Rate
The other statistics that the web marketers talk about is bounce rate.
No, it is nothing to do with Spax. (although it could be I suppose)
At LDpart.co.uk the bounce rate on 11 and 12 Feb 2011 is 12.07%
Apparently on reviewing a few 'You tube' videos on Google Analytics, bounce rate is the percentage of visitors that only look at the 'Landing Page' and then click away realising the site is not for them, or going into deep shock at the sight of a Triumph Stag and wondering how on earth  such things are allowed in the technically advanced age of Apps and Ipads and Nanos and ds and ps3 and Kera Punk Emo and Nandos and ……hey wait a minute……that's a Portuguese restaurant!!
A common industry figure for bounce rate is 40% or 50% namely this sort of area.
So a 12.07% bounce rate means we are a sad lot!!
And, going on to prove it:-
SOCTFL REAR LAMP SEATING GASKETS    

A few months ago SOCTFL were asked to look at sponsoring the rubber gaskets used between the rear lamp base and the rear lamp panel.

Fresh from sponsoring the manufacturing of Quarterlight Seals, and following a similar process SOCTFL have now partially funded a project that has already come to fruition in the shape of product ' available for sale now '.

A brand new NOS original pair were loaned to SOCTFL by a Stag Owner and they were copied and the new product moulded precisely to the exact size and profile complete with the correct edges.

They have been test fitted by a SOCTFL board member who reports they fit perfectly but they take some dexterity to fit.
We are happy to inform you that we have this product on offer at LDpart. It is called ?Rear lamp seating gasket?.

http://tinyurl.com/4r826be

Part number 216126 in your BL Parts Triumph Stag catalogue plate S12 (01-85) in your Mark One parts book or page 05-32 in the 1978 BL Parts Book


WHY BUy?


This product has not been available in this form for years.

Many of the lamp gaskets out in the field are brittle, age hardened, cracked and leak water in the top which fogs the rear lamp and allows the panel to rust.
Additionally others have a thin paint line as it is difficult to mask them accurately.
Lastly a fair few cars were never fitted with them in the first place.


So very many good reasons to buy these items now they are available.

http://tinyurl.com/4r826be


SILICONE HOSE SETS

You will have no doubt seen universal cooling hoses on offer in blue, yellow and red and many others.
These are the silicone hoses, used in racing circles.

One of our suppliers has asked us if we can put on sale their Silicone cooling hose sets for Stag, made in UK by Samco.

These hoses carry SAMCO branding

These are not actually in bight colours they are black as original.
I asked why anyone would want to spend up to £150.00 on a set of hoses and I was told? Because they last forever?
They are a fit and forget part.
Also we notice they are double reinforced.



We think that is a huge amount of money for a set of hoses.
Even then the bottle hose is not included, nor the radiator bung Nylon Washer.

For this reason we will not stock them but we will buy them to order so they will take a day or two extra if anyone wants such an item.
The price is £114.72 plus postage plus 20% VAT so overall cost to your UK door is £147.50
http://tinyurl.com/4ecupwj

And here is what Samco say as to WHY?

http://www.samco.co.uk/why_silicone.htm
Adios until next time!
LDpart NEWS !  30 Jan 2011
Keeping us busy  - Cor!
Phew you would never believe it was January we are rushed of our feet again already. 
Things slowed down a little last year in September and November, presumably due to the back to school activity or holidays for the people not at peaceful child free resorts. 
Then again perhaps fears of the global recession were beginning to bite at the pocket level. 
In December it was the weather in the UK that slowed the UK economy into negative growth (Don't you just love that term?)
Strangely LDpart turned over more in December 2010 than 2009 but this could be because we are always adding products, and the Stainless Steel Sleeved Clutch and Brake Master cylinders are hugely popular presumably being a fit and forget item.  We struggle to keep stock of these, as they literally fly off the shelf.
We have had to request your old item first these days as we were running out of what is know in the trade as 'core'  being worn parts to be restored.  In other words the surcharges were not enough incentive to get the old parts send back.
So it is a 'New lamps for old + cash'  deal now.
And still we run out.
We have quite a few worn ones now ready to be done which will take a few weeks.
hose coloured specs
You will have seen the blue the yellow and red and many others.
These are the silicon hoses, use in racing circles.
They are also a fit and forget part.
One of our suppliers has asked us if we can put on sale their Silicone cooling hose sets for Stag, made in UK by Samco.
These are not actually in bight colours they are black as original.
I asked why anyone would want to spend up to £150.00 on a set of hoses and I was told " Because they last forever".
Also I notice they are double reinforced.
We think that is a huge amount of money for a set of hoses.  Even then the bottle hose is not included, nor the radiator bung Nylon Washer.
We will not stock them but we will buy them to order so they will take a day or two extra if anyone wants such an item. 
The price is £114.72  plus postage plus 20% VAT so overall cost to your UK door is about £143.00
Deathly hush there I fancy.
Till next time then, enjoy your Stags and get them ready early this year as we will have a fantastic summer in the Northern Hemisphere and your Stag will want to be making the most of it.     
LDpart NEWS !  16 Jan 2011
happy New year???
I am beginning to wonder if this is such an appropriate greeting.
We see floods in Australia of mammoth proportions. Terrifying rain damage in Brazil. Riots in Tunisia. Various animals committing mass suicide in different global locations.
We have emailed all our Australian customers with a message of condolence and hope and one of the replies indicates surprise we have heard about it.  Like English people do not have their eye on Australia at the moment.
I speak of Cricket - one of England's greatest exports.   Like the Stag.   Bringing together enthusiasts from all over the world.
In UK we have been warned to expect 150mm of rain in some places. That is 6 inches in one storm and absolutely unheard of.
The highest expectation in Ben Nevis in the Scottish mountains is 170 inches per year say 14 inches per month.
It is double the rainfall in nearby low lying Fort William.
To get nearly half Ben Nevis Rain in one storm in England is just unbelievable.
Fortunately it hasn't happened yet.  If we get 100mm in Wendlebury several houses are flooded.
We do not know what happens when 150mm of rain falls and we don't want to either.
Driving Ambition --- I'll say!
Take a look at this story by Shams Al-Shakarchi of the Kent Courier Group about a Stag Owner in Kent who is now driving again after having had a stroke.
Maybe some readers know this incredible gentleman.  We can take great heart from such incredible fortitude.  
or WOT!
Julia Hartley Brewer, writing in the Sunday Express is complaining that the English cannot speak their own language.
She has just come back from holiday in Thailand and heard Finns Norwegians and various other nationalities speaking English better than the English people on holiday.
I think she is being a little bit stuffy over this.  I remember it being very cool when I was young to use a kind of street language that only had meaning for your fellow cronies in college or at the pub.
 Even so I am rather shocked when I see people cannot spell when it matters, so she may have a point.
Someone's poor spelling can be to your advantage if you are searching for items on Ebay. Mispelt items are always there to be bid on at very low prices because no one else finds them.
For example 'Hyundia' is a good one for a cheap car.
'Convertible'  instead of 'Convertible' is a very common one, so much so its not much of an advantage to spell it wrong because absolutely loads of people do already.
Another common one is Vane – of a water pump.  I have seen Vain and Vein amazingly
It used to be possible to search for Truimph but Ebay have stopped that and will not let you search for that, and convert all Truimphs to Triumphs automatically
However you can still get away with 'Notbook' if you want a cheap 'Notebook'
At LDpart we try to spell things correctly but then we have the added complication of two names for things, like
Track Rod End or Tie Rod End
Gaiter or Boot
Sensor or sender
We always try to use the Triumph terminology in the BL Parts Catalogue for Triumph Stag but even that is not consistent.  
This is why we offer two types of search.  In the titles or in the product detail.  Hopefully you find what you want.
If we do not have it in the shop we have a suggestion normally.  Just get in touch by email or phone. 
LDpart NEWS !  9 Jan 2011
happy New year
You will have all made your New Year resolutions.
Now let me guess.  
It is actually quite difficult.
I would say "Eat less", but come to think of it, none of the Stag owners I know are overweight.  I have been fortunate enough to have moved around the Stag fraternity for 10 years or more and if you do this you will find you get to know a great many people.
I hadn't thought about it before but none of them is on the plump side.  They are not stringbeans either, just a good normal size. 
Could that be connected to Stag ownership.  Thinking about it even more it seems to be any classic car owner.
So if anyone out there reading this is not a Stag owner and is overweight the New Years Resolution must be-
Not "I will diet"  but "I will buy a Stag"
Get ready for the summer
It is going to be HOT!
Why
Winter
The winter of 1946-47 was one of the worst on record, and certainly one of the snowiest of the last 150 years.
Summer
The summer of 1947 is the 7th warmest on record in records dating back to 1659. Only the summers of 1826, 1846, 1976, 1983, 1995 and 2006 have been hotter.
Do we see history repeating itself?
Maybe yes.
IN WHICH CASE, it is time to get going now.
In the heat of summer it is impossible to drive a Stag top down.
We found this going to France in 2006.  The Stag was powering along the French motorways. Through the plains and through the mountains in 35 C with blistering overhead sunshine, top down would have given us sunstroke in no time.
So we had to run with the top up and the windows open and back window down.
This is not the point of having a convertible.  The idea is to run open top, with the wind in your hair. 
So this year it seems the time to be doing this will be March April and May, so the advice has to be, start getting your car ready now. Start doing the lists, booking the garage, and getting the parts. We are in for a long hot summer.
dUal mass or dual mess
 Some modern vehicles, particularly Diesels, have Dual Mass Flywheels these days.
This means a flywheel in two parts, one with the starter ring gear the other taking the engagement of the clutch plate, and joined by a long coil spring arrangement.
The purpose of these is to reduce vibration and stress now that direct injection diesel engines can produce much higher torque at much lower revs.
However many fleet managers and technicians believe they wear too quickly and quite a lot have been changing the vehicle spec by reverting to a traditional standard solid flywheel when replacing clutches.
Now this idea has become seriously unstuck.
There is the story of the Taxi firm who changed the fleet of 1.9 Octavia diesels back to solid flywheels and then later had a crankshaft through the block side.
After this happened three times they decided to revert back to manufactured spec and
fit dual mass flywheels again.
The dual mass flywheels do exhibit some play.  However manufacturer Luk has revealed that out of every 100  Dual Mass Flywheels returned under warranty only 2% are faulty.
Hmmm interesting as it is for modern cars, it just goes to show you cannot beat the good old ways of making cars. We never had this problem with Stag Clutches.
However if you DO have a modern direct injection diesel do not get talked into replacing a Dual Mass Flywheel with a traditional type when getting your cutch done. 
They cannot take the low rev modern diesel torque power.
Save the money and spend it on your Stag instead where it is guaranteed to improve your smile.
LDpart NEWS !  26 Dec 2010
COOL RUNING
On 5 Dec I said "You have to worry about people in 6 inches or 10 inches (of snow)"
On Friday 17 we got an inch of snow at .  I know that as I was planning to go out for  a Christmas Lunch with friends.
I was going on the bus to Oxford.  The just failed to turn up.  The came along and the driver very kindly skidded 6INCHES to stop in the snowy layby. That was it for Friday, ONE inch of snow.
Then comes Saturday.  My goodness - it started snowing at and didn't stop until . Great big snowflakes like Kleenex tissues falling out of the sky.  At we had 14 inches of snow. Yessir 14 inches. I have never seen anything like that in my life.
Even 1947 was not so snowy.  I remember 1962 when we lost power for 2 whole days. That was interesting.  Fortunately we had a coal fire so heated water on that and also made soup. 
I remember thinking to myself at the time, I will always have an open fire in my house.  And that is what I have always done.
We now have huge trees in the garden so while I let the saplings grow where ever they start, or transplant them I cut a large lump off a tree every year.  Now fortunately we have the wood from several year's croppings and a lovely log fire in this incredibly cold weather where even your heating system doesn't work. 
GO FORTH TO THE STAG MY CHILD AND LEARN
why your heating doesn't work in subzero temperatures!
Heating systems, cooling systems, any Stag owner has thought deeply on this stuff.
I see talk about central heating pump speeds. The setting 1 is about 1000 rpm 2 1500 rpm and 3 2000 rpm.
Which is better.  If the water travels too quickly it will not lose heat to the room or gain heat in the boiler.
Hey hey, isn't this the same conversation we have about 6 and 12 vane pumps.
That's a new one however. If we could set the Stag water pump to anyone of three different settings what would we do?
It occurs to me it simply doesn't matter.  What matters is the relative surface area in the heat exchanger.
The all the surfaces in the radiator add up to a greater area than all the surfaces in the boiler, the boiler will never catch up.
If the opposite is true then the boiler will be switching off frequently.
So we have the concept of Kilowatts.  The room of an average UK  house is between 1 and 2 kilowatts.  
A boiler then needs to be 10 kilowatts for an average house – Add 2 Kw for the water heater.
All heating systems are designed around a temperature drop value.    Usually its around 20 degrees C
This means your house will stay at 20C when it is 0 outside.
What if it goes down to minus 17 as we have seen.   Then the house is +3   Bring on the Open Fire.
The theory is all the same Stag or central heating.   The Stag is a central heating system in reverse.
If we think of the Stag engine as a Central Heating Boiler it is like putting a 20Kw boiler in an average house and removing the thermostat.
Very soon you will cook as you do not have enough radiators to remove the heat.       
Doesn't this sound so familiar.  It is why we are so keen on electric fans.  They only work when required and then boy! Do they move some air.
IN THE PINK
 I have seen three cars broken down overheated today.  All within 3 miles and all ten years old type cars.
Why would they overheat.  My guess is they are trying to pump jelly round the cooling system.
This means they have the old Blue Green Antifreeze and they run at the traditional 10 -25 %
The owners have not checked the level recently and not upped the % to cope with the cold.
In the great Blue/Green versus Pink/Red Antifreeze debate we now see that it is good to be using Pink Red for three reasons.
<![if !supportLists]>1) <![endif]>It must be used in a 50/50 mix.       This saves your engine from overheating in subzero overnight ambients.
<![if !supportLists]>2) <![endif]>It should be used in systems with header tanks.  For Stag owners, adding a Header Tank is a lifesaver.
<![if !supportLists]>3) <![endif]>On the local forecourt, as I predicted in 2002, only Pink/Red is on sale.   Yes get your blue green at Halfords but hmmmm!!
I just thought of two other reasons to put Pink Red in Stags
<![if !supportLists]>1) <![endif]>It lasts 5 years.  In fact you never replace it just top it up.
<![if !supportLists]>2) <![endif]>It has very superior corrosion resistance and your Stag heads will last much longer
Be sure the engine is given a two part chemical flush before switching antifreeze as the Blue Green and Pink Red are seriously incompatible and must never be mixed.
YOU HAVE BEEN WARNED! 
 . 
LDpart NEWS !  5 Dec 2010
PRETTY - AWFUL
That's our opinion of Snow.    It's OK on mountains and open country, and the conifers in Scotland look supreme when their outer branches are dusted with snowflakes. 
OK enough of that. There are things to do, people to see, places to go, and all that stops when it snows.
In Oxfordshire ¼ inch was enough to mess everything up.  There is a bridge over the dual carriage way and ¼ is enough to render it impassable.  No one grits these small unclassified roads.  So we have hundreds of tons of goods trundling around on gritted roads and no one who lives in a house can get out on to these roads as they do not grit peoples driveways or side streets.
You have to worry about people in 6 inches or 10 inches or even 24 inches of snow.
It must be utter misery.
In UK we are so not geared up for this despite having increased plant for dealing with snow from under 1500 units to over 3000 units in the last year.
You can have sheds full of salt and a huge fleet of snow ploughs and gritters but if the people cannot get in to drive them, or the council can't afford the overtime or the staff are off sick then we do not go anywhere.
At least it was encouraging to see the TV interviewing the Manager of Didcot Power Station. He said they had over 1,000,000 tons of coal and emergency residential accommodation on site and food for 6 months and there was every contingency in place to keep the power supply going.  That was really good to hear.
SO it Goes on
Here are the next five days forecast temperatures
High -3°C High -1°C        High 0°C  High 1°C  High 4°C
Low -6°C Low -4°C Low -4°C Low -2°C Low -2°C
Not exactly ideal weather for working on your car.
It is a good idea however to start it up and get it really hot now and again. Leave a brick on the pedal and let the engine race away. Not 20 minutes of tick over but really pound it, and burn off some of the water that hangs around in the engine. Not a good idea to run out of petrol however so keeping an eye on the fuel gauge.
'S'no go!
So here is a new one.
The

SOC

AGM

was held at Landindrod Wells.
That evening was the coldest in UK. Maybe -12C
So two stags parked in snow rather exposed both had click nothing experiences.
Jump leads, advice, you name it, they wouldn't crank
Both were trailered back to England
Two days later one of them is given a go and bingo up she fires.
Same thing with the other one.
Of course now it's only -2C or -1C
So what is going on there?
Well the extreme cold somehow generated excessive voltage drop between the battery and the Red white connection at the solenoid and not enough juice was getting through the solenoid.
We had a similar thing with a Starter we sold, although not cold related. 
Did exactly that.
Click and nothing. 
Our reconditioner visited the car, slapped a 10 p across the solenoid Red White terminal and battery incoming terminal and Off she goes.
Nothing wrong with the starter then. 
Too much voltage drop along the wiring.
My guess is the cold shrinks the contacts in the connector block or the inhibitor switch in an Automatic.
One answer would be to replace the terminal block with a better form of connector.
The other would be to locate a relay above the starter that is triggered by the ignition switch but pulls in direct current from the solenoid battery IN terminal. We might figure something out for this. It would provide a path from battery to solenoid with fewer opportunities for the excess voltage drop that so often cripples starters.
A 30 amp relay, some bits of wire and ring terminals should do it.
However first thing is always check the earth lead to the battery is in top shape. No missing or broken strands and good contact to engine and body.
LDpart NEWS !  28 Nov 2010
'A'  Seam  - to the rescue!
Do you suffer damp carpets and misty instruments that clear when the car warms up? Have you searched and searched without success to find the leak.
One more place you need to look. The rain gutter.
Probe carefully, with a fine piece of wire, perhaps 1mm diameter, with a small 90 degree bend at the end. Search in the gutter the length of the seam between the windscreen A post and the gutter panel.  Look for tiny cracks and perforations in the seam sealer. If you find even the tiniest hole, that's a problem.
The water will run into that tiny hole and into the A post. It then runs down inside the A post and out through a tunnels shaped hole where the A post joins the inner sill.  It then sits under the carpet getting it nice and wet so it becomes a nice wet poultice that will rot the floor pan out eventually.
If you find a hole, then seal it with anything that you can paint over. Most of the gutter area can be masked. It only needs painting in the very bottom.  Then hang your carpets out to dry indoors. Dry the floor pan with kitchen paper.
Let air flow through the car to dry out the instrument panel.   
You can save your car this way.
End failed Carb Rod ends
One of the less clever parts of the Triumph Stag is the plastic rod end that connects the linkage to the carburettor throttle spindle.  A strange plastic receptacle that is threadless but screws onto a 10 - 32  link rod, and when you least expect it, it splits due to tiredness from use and wide temperature variation.
You are not unable to proceed.
So LDpart have introduced something to fit now and prevent the above mentioned event from taking place.
Metal Link Rod ends.
This is part number 155455M metal carb link rod end.  These are imported from USA, cut down to be a straight forward replacement on the rod and push fitted to the ball on the spindle crank.
Other such rod ends in the market are too long. We have done the cutting for you.
Better still we have made them so there is enough room for a lock nut to be fitted to retain their location and prevent twisting. 
£3.99 inc VAT each at the 20% rate. 
Buy them before Jan 4 and they are £0.07 less.  Most cars already have one metal end so a car set means 3 pieces plus lock nuts HN2005 at £0.05p each.
One thing less to worry about when commuting or touring. Another Fit and Forget item.
4 Ways Your mobile phone can help in emergencies
1
The Emergency Number worldwide for Mobile is 112. If you find yourself out of the
coverage area of your mobile network and there is an emergency, dial 112 and the
mobile will search any existing network to establish the emergency number for you,
and interestingly this number 112 can be dialled even if the keypad is locked. Try it
out.  Don't let it answer however unless it is an emergency.
2
Have you locked your keys in the car?
Does your car have remote keyless entry? This may come in handy someday. If you lock your keys in the car and the
spare keys are at home, call someone at home on their mobile phone from your cell phone.
Hold your cell phone about a foot from your car door and have the person at your
home press the unlock button, holding it near the mobile phone on their end. Your car
will unlock. Saves someone from having to drive your keys to you. Distance is no
object. You could be hundreds of miles away, and if you can reach someone who has
the other 'remote' for your car, you can unlock the doors (or the trunk).
Editor's Note: It works fine. We tried it out and it unlocked our car over a mobile phone!'
3
Hidden Battery Power
Imagine your mobile battery is very low. To activate, press the keys *3370#. Your mobile will restart with this reserve and the instrument will show a 50% increase in battery. This reserve will get charged when you charge your mobile next time.
4
How to disable a STOLEN mobile phone?
To check your Mobile phone's serial number, key in the following digits on your
phone * # 0 6 #
A 15 digit code will appear on the screen. This number is unique to your handset
Write it down and keep it somewhere safe. When your phone gets stolen, you can
phone your service provider and give them this code. They will then be able to block
your handset so even if the thief changes the SIM card, your phone will be totally
useless.
You probably won't get your phone back, but at least you know that whoever
stole it cant use or sell it either. If everybody does this, there would be no point in people
stealing mobile phones.
LDpart NEWS !  21 Nov 2010
BEWARE THE SOLUTION!
Now we hear several somewhat worrying things for Stag owners
The first is that all the Harbingers of Doom are warning of a really hard Winter. Lots of snow and cold in UK.
I have to admit the berries on the trees this year have been very fulsome. The Yew was covered in these little upturned red cups. The Berberis  Darwinii was a mass of tiny tulip shaped orange flowers and the Pyracantha looked more as if someone had upended a 50 gallon drum of baked beans over the garden.
What does nature know that we don't know and how does nature know?
Secondly the good old county council, well here anyway, having been caught out last year with insufficient salt, has come up with an idea to make the salt stick around longer.
SOLUTION
It is going to mix sugar in as well so as to make a sticky concoction that melts ice and stays put.
The problem is that it will NOT stay put. 
No, it will get flicked up all over the bottom of our cars.
Oh Wonderful.  We not only have salt to contend with, now we have sticky salt.
This comes after a shot blasting from the grit that chips all the nice paint away. It will be like catching a virus that rots steel away at a faster pace as it doesn't wash away in day to day use in normal rainy or wet conditions
So lads and lasses in UK and anywhere else this heinous idea has found interest, we are going to have to invest in frequent bottom washing followed by steam cleaning in spring if we use our precious wheels in winter.
I think this also applies to our daily drivers as well, whatever they are. Otherwise we may suffer quicker than wanted bottom rot there as well.
BO JO Success
 We are delighted to tell you that Andy Hedley and his famous Damson Stag successfully completed the Beaujolais Run this year 2101
Facebook is a bit of a mystery to me but pictures of the famous Stag back in UK with LDpart stickers are now posted there.
So congratulations Andy on completing the 4 day run into deepest France with no issues.  Did those LDpart stickers provide just a bit of luck!
Go to http://www.beaujolaisrun.com  event blog as well
New in shop
One new item this week. It is 157892  A Tee piece that fits in the fuel line at the carburettor supply.
As Tesco say, 'Every little helps'. 
LDpart NEWS !  14 Nov 2010
hybrid  d. i. Fry 
We have just read a nice little story about a chap who buys a Hybrid Honda or suchlike from a Dealer and gets it for little money because it needs a head gasket fixing.
'This will not cost much on a four pot Honda' he thinks being a handy Auto DIYer who can mend cars.
He lifts the bonnet and is confronted by a stack of orange coloured connectors and lightning bolt warnings.
Make one wrong move and he will get fried alive by the Cars massive 280 volts. 
Its Barbeque time and our DIY friend is about to become the Wicker Man. 
Then we recall the Dealer SOLD it and didn't want to fix it!
I think we'll stick with the Stag!
got our bo-jo working.
We do not advertise LDpart as we are seeing constantly rising sales volume, not so much month on month but certainly quarter upon quarter and year on year.
We do however provide a small amount of sponsorship for various bits of Staggery.
For example LDpart sponsors the Stag Digest the home of a wealth of non-club aligned technical help from some startlingly well versed contributors.
We also sponsor the Runswick Bay annual Triumph run, by advertising in the programme, mainly because we were asked.
This year we have been privileged to be asked to sponsor the Andy Hedley Damson Stag on the Beaujolais Run.
This is the USA spec car which was originally owned by Richard Chamberlain of ……well we are sure you know about this car. I first saw it at Ally Pally in 1992 when the SOC displayed it on a Stand with the theme of Rush Hour with Love which presented a clever theme of using the car to go to work with the sophisticated overtones of James Bond and Dr Kildare.
For more about this years event, which sees departures from Brands Hatch early on Tuesday morning 16 Nov 2010, go to
http://www.beaujolaisrun.com/index.php
The run is to bring back to UK the famous Beaujolais Primeur.
So we wish Andy Hedley and his team all the best with the Stags. Lets hope they get a Podium with lots of lovely pix showing the LDpart logo
Cheers!
LDpart NEWS !  7 Nov 2010
CLEANER PipeS
We read in the SOC magazine that in the UK the current 5% of ethanol in unleaded petrol will be increased to 10%
Further research shows this is in order to meet a new EU directive basically aimed at reducing Carbon emissions.
The Directive states that from 2011, petrol may contain up to 10% (vol.) ethanol. In order to avoid damage to old cars, however, fuel with 5% (vol.) ethanol will continue to be available until 2013, with the possibility for member states to extend that period.
It seems it has been at the 10% level in USA for some while now.
Apparently ethanol will attack nitrile used in Rubber Petrol pipe.
It is clearly not to be good news for Classic Cars and also attacks fibre glass fuel tanks used in boats.
It is produced from plants and therefore cuts our reliance on the expensive stuff from the Middle East. It has higher octane and produces cleaner emissions.
It is a very complex topic and a host of material at differing levels of detail is out there.
In response to this LDpart will in future only be sourcing fuel pipe that is resistant to alcohol, apart from the main fuel line in the Stag which is Nylon and is used in the majority of modern cars.
However there are rubber connectors and moulded elbows at various points. LDpart will be offering Nylon elbows and joiners with short lengths of Alcohol resistant tubing to replace rubber and Nitrile fittings.
Places to watch are
Straight connector near the rear axle and bulkhead
Elbow from pickup pipe and elbow to fuel filter
Pipe from filter to carbs and connector and elbow to RH carb.
The fuel filler neck may not get the same degree of exposure but if the inside of that starts breaking down we will need to be ready with some well researched way of dealing with the problem.
Perhaps the answers already exist in the USA
KEYWORD COPS
What have our visitors to the site been looking for this week.
Each week we see about the same statistics on our web site
50% of Traffic comes from direct access, people typing LDpart into their browser or using a bookmark. Thank you!
25% of Traffic comes from Search Engines, people typing all sorts of things into Google. Most recently festoon bulbs and inlet manifolds have featured highly as keywords.
25% of Traffic comes from the SOC Forum would you believe. Many thanks to our regular supporters in this respect.
The most popular link by a mile is the Adjuster rings we offer for setting door mirrors correctly.  That is clearly a major problem.
It arises because the Mirrors are only available from one source and the tooling has worn to the extent there is an almost undetectable error in the pressing.
The attachment threaded stud in the mirror back sticks out through a domed pressing.
The domed pressing is supposed to be a hemisphere. But it is not an exact hemisphere. There is a slight lump at one side and this restricts the potential for articulation of the mirror head on the stalk.
The adjuster rings fit over the hemisphere and provide a new perfectly shaped hemisphere and now the mirror will articulate the full stretch.
Unfortunately in the Stag application, the mirrors are more or less on full adjustment for most drivers to be able to use them.
Other very popular Forum links are to Door Trim Pad clips, Brass Exhaust Nuts [which we do not really understand] and Distributor base plates which is really good as they are the last item investigated by SOCTFL and its enterprising Director Mr Fisher to the extent we now have a result.
drives us madder
As if getting onto a roundabout was not enough there is another problem.
Getting off it.  -  Which exit, which lane and of three which lane collapses to make two? Why is there an immediate Pelican Crossing as we leave ?
We heard this week that Road Deaths in the most recent reports were down on last year in the Thames Valley region.  Amazing when considering our Roundabout Story last week and the sheer 'speed' at which some drivers negotiate hazards.
Perhaps there are just more accidents that do not result in deaths as we get more Air Bags, not only more cars on the road with air bags as older models are scrapped , but more Air bags in the cars.
I think in our own modern carwe have 4  because they are in the door pillars as well as the front and  most modern cars have even more including the head restraints. 
There is a theory that the more safety features we have the madder and more reckless become  the drivers.
The motorist now has  ABS, collapsible bumpers,  air bags and  now more air bags. Over- revving prevention devices and fuel cut outs. Even the Stag has that last one called the inertia switch.
There are stricter MOT tests, better tyres and disk brakes all round. 
So when driving  Stags we need to bear in mind we
Do not have ABS like the rest.
Do not have AIR BAGS like the rest.
We do not have collapsible bumpers and our front panel top edge could break someone's leg.
Moral   - Follow the 2 second rule and leave plenty of space in front. 
We are interested in preserving Stags not seeing them written off.
We are even more interested in preserving the owners!
LDpart NEWS !  31 Oct 2010
HOT HEADED WARNING!
How hot is your engine getting? Do you need a warning light ?
We now have a switch in the shop that will illuminate a warning lamp if your coolant reaches 113C  or 235F .
Well actually the cars were launched in 1970 with these warning lamps and the red "TEMP" sector of the Mark 1 warning lamp panel exists to be lit up when the temperature of the coolant exceeds 113C 9235F) . In your ROM the first wiring diagram show it as item 77 and 76. 
Then, because the lights kept coming on, and customers were in the Dealerships all the time with these "TEMP" warning lights , Triumph decided to ask Dealers to cut the supply wire.
Yes that was the Triumph Engineers answer to the problem.   The argument was based on an assumption that the sensors were inaccurate and tripping the RED lights at too low a setting .
In the Mark 2 cars this item is left out of the design altogether.
However the ½ ins BSP threaded hole is there if you want to put one in.   They are a very good idea as they will provide a warning that may save you £000's on having your heads repaired.  Now that heads are becoming rarer and rarer it is a good idea to do everything possible to protect and preserve the ones that do work properly
You could connect it to the Choke Warning light or the Handbrake Warning light or even buy a small extra warning light to fit into the dashboard if you want something RED in colour.
Another zephyr on ebay
I think you must know by now I er'  like these cars. It is a close run thing between these and the Stag
The Stag wins because it has electric wipers, radial ply tyres and gets reasonable BHP out if its 3.0 Litre engine size. The Zephyr struggles to to 80mph with 2.5 litres. Spares availability is an issue. You can't even get an oil filter. (Well you can but £15.00!)
So the Zephyr needs much updating to get it to a usable condition for today's roads,
Never mind just take a look at  Ebay item 160498615147
My first  car was a Zephyr Mk1 Saloon. It was the same colour as this ebay one.  Pale blue green with white side flashes.
My next car was just like the Ebay one but red with white and beige with cream leather interior. 
Seeing this one on Ebay has me twitchy again.  
drives us mad
The UK is a wonderful place to drive !!
How we avoid having more accidents I do not know.
Driving along the road is fine until we come to a  Motorway Exit or a Roundabout
Then it all goes to pieces bigtime!
For some reason the British people are expected to be clairvoyant mind readers of massive judgemental ability.
As we approach a roundabout on a dual carriage way some strange things happen.
The roundabout has two lanes arriving and there are often at least three exits from the roundabout
So which lane do we choose?
Well we seem to know that the nearside one is for people turning left or at the first exit
We seem to know which one is for right as well. The offside lane leads us to the right turn.
Which one do we choose to go straight on?
Ha Ha this is the question. Lets face it there is no answer, and the police driving manual doesn't know!
So the great British Driving public have to draw on something. extra.
Its called judgement!
That would be great if you always arrived at the roundabout on your own. You could say, well the exit is not exactly straight ahead it's a bit this way or that and choose a lane accordingly.
The problem is there is nearly always another car trying to negotiate the roundabout at the same time.
So now our dear old brains are faced with a complex task.
Not "Which way am I going to go?"  but additionally "Which way is that other car going to go?"
If you are trying to give a signal as to your intentions and change gear as well – well you can see its got mighty complicated.
All this assumes you know are familiar with the hazard and know where you are going! 
What if this is the first time you ever encountered this roundabout? For example you are away from home, or as happens frequently they just built it.
It gets worse.
The wonderful Highways  Agency  realise the problem we are all having so what do they do.
They arrange for the end of the dual carriage way to be split into three lanes at the roundabout. One left one right and one for straight on
 Ha hahaha
That means we now have an added problem.
How do we know if the next roundabout will have this feature or not on our approach.
If it does which lane splits into two. The inner or the outer. 
Well it could be on a Road Sign , but it isn't and it never is.  The only place you see it is the road markings. The white painted arrows.
So even more judgement.  Different gear change pattern, different signals, and now we have to guess the future direction of not one other car but two. 
Mind readers, psychics and brain surgeons, queue here to take your test because you will need to be all three.
Oh to be in America where God Bless you all.  You have sorted all this out.
Where ever you are in America and want to go somewhere else, just follow the lane for that route. 
One lane per route
One route per sign
One sign per route
No wondering which lane should I be in?   Its all clearly marked with an overhead sign. This way for Interstate 42,  this way for  South Beach, this way for National Route 25 etc etc.   No roundabouts .
Driving Heaven
America where for many years it was 55mph max even has decent speed limits now as well.
My very crude analysis says if it is a republican majority vote state, its 70 or 75 and Democrats are at 65.
Arizona and New Mexico seem to be 80 --- Wow!
I envy USA Stag Drivers.  Of course you cannot run with the top down.  You'd fry.
LDpart NEWS !  24 Oct 2010
Free hand made xmas card and gift box with every DVD and CD
It's true!   With every purchase of a CD or a DVD or any item in our Xmas Gift Ideas Category, we shall include a free hand made Xmas Card and for CDs and DVDs a Free Hand Made gift box as well. 
These beautiful items will grace your gift in a unique and personal way. In these days of rising commercialism and disappearing Christmas we provide the means for you to continue to enjoy traditional seasonal expression in a unique way.
See samples of the Cards in the shop.
GET THE PICTURE
Our Website Statistics results never cease to amaze.  How did we get one visit from a search on "Acme Screw Nut"?
Even after many pages of Google listings using this search terms you will not find LDpart listed.
This is just as well as Ldpart is not a supplier of ACME screw nuts.  There is one part on the Stag called Acme Screw and nut and 6 pieces of it are used to hold on the Fan shroud on USA cars.  We have a part that covers this application but it's not an ACME screw, just something very similar that does the job.
Apart from being the only factory ever to feature in Tom and Jerry Cartoons what is this Acme screw thing and how did a searcher find LDpart.
Well they must have used a search we often use when we can't find an item in the internet.
It is called "Search images"  
Regrettably we have still got a picture of the original Acme screw used for the fan shroud, so perhaps we had better take that down as we have none left.   Then we will not distract the Acme screw hunters.
However "Search images" is a really revealing use of a search engine.  Try it next time you are looking for something.
You may just finish up at LDpart again!
FAST CONNECTION OR WHAT?
Here is another strange deal on Google Analytics which is the system that tracks to performance of your website.
It tells us how much time each visit lasts.  Last month we experienced two visits that had a reported time of >.
Not which is a one second visit.
No these are visits that are greater than Zero (Yes we got that!) but less than 1 second.
All we can assume is just as the visitor arrived at our site the power went down.
No one has a connection that can change pages in under a second do they?    Oh and guess what!  One of them was an ACME Screw Nut hunter!
We definitely need to kill that picture!
The Y FACTOR
Every Saturday evening in UK the Nation is treated on TV to the "X" Factor which is a 4 month running talent show.
It whittles down contestants by poplar vote until one is left who is considered to have the X factor. 
That is the voice, timing, expression, range, presence, confidence, personality and sheer unremitting stamina that constitute Star quality.
The last act left standing will go on to become a serious recording artist and make the presenters lots of money.
The last winner was Leona Lewis who strangely, was, for a while, more popular in USA than UK.
Y then, when this wonderful programme is running, do people find themselves on their computers generating orders to LDpart. 
All I can say is thank God for the sanity of Stag Owners.
EbAY GUM!
We are having a bit of a clean out of items that we cannot put in the shop.
We have one item being 4 not the usual 3 Water Pump cover Gaskets. 2 thin ones instead of 1.
They are Brand new and on at 99p post free.   
We have 14 page views, 2 watchers and no bids. 
Is this not weird, or do we not understand Ebay? 
If no one buys it that's understandable. 
But why would anyone add that to their watch list!   Anyone out there who can explain this, please 'wise us up' on behaviour.
LDpart NEWS !  17 Oct 2010
RISING STAG VALUES
Today Ebay has 34 Stags on sale starting from the high  of  £13,000 yes £13000.  Seven of them over £7000    So the market is definitely on the up especially for the one being sold by Spiderman http://tinyurl.com/23v5a3j   You will not see this advertised anywhere except on the web! (Oh dear!! we can hear you groaning!)
Here's hoping the new owner puts a Stag engine in it and it will really go up.
If you want to see some more stags for sale, and one of these at OVER £19,000  go to http://tinyurl.com/26kztzc  although quite a few of these are already sold.
And over 50 Stags on sale at http://tinyurl.com/27qsyfq  including one at an amazing £23,000!
This is also quoted in US Dollars at staggering $36,000!  
And following up, another  8 on sale at Autotrader   http://tinyurl.com/247hj8g
Don't you just love the sales pitch, [Autotrader Advert] of
      Ex Museum!  
How can anyone drive an 'ex Museum' piece?
 "What a funny old world it is" as another 'ex', 3 election wins Margaret Thatcher, said on being ousted as Leader.
Just be careful about any 'ex museum' parts!      
STARRING PARTNERS
Your Stag is a star.   The love of Film and TV stars and directors/writers etc. 
For your delectation consider  this list :-
James Bond (Diamonds), Dustin Hoffman Susan George (Straw Dogs), Joanna Lumley wanted one for the Avengers, New Tricks, Hazell and lots more
http://www.imcdb.org/vehicles_make-Triumph_model-Stag.html
<![if !supportLineBreakNewLine]>
<![endif]>
Get out and about in your Stag and as a result everyone will give you a second glance. If you do not have a Stag then scroll up to the top of this page and start again.
PUB'S ARE NOW OPEN AT LAST!
Yes! You can find, as of today, for sale on this site, the new Stag 'Publications' DVD which works !! [yes] on Microsoft Windows Vista and Windows 7 and even on Macs running windows.
The Main British Leyland Publications as copyrighted by the Heritage Motor Centre at Gaydon are all there
The official workshop procedures are there in the ROM. 
All the part numbers from both the late well known Parts book and the earlier one as well. 
You will also find all the owners manuals.
Basically all the official documentation is there.
It is easy to print out any of the pages which is especially useful when doing complex workshop tasks like for example, overhauling a steering rack.  Just print the pages. No worries about dirty thumb prints on the your treasured manuals
Just search for    HMCC7007v  or click on http://tinyurl.com/277jb3o
ARE YOU BEING SERVOED?
We have recently added Reconditioned Servo Units to the web site.  These are completely overhauled and yellow passivate plated for smart appearance and resistance to corrosion. You can send your old one back in the box we ship in to reclaim your surcharge.
FAST DRUMS
Centralize and keep your brake drums in the right place.  We now offer the Brake Drum Screw  V5435  the ¼ UNF Brake Drum Screw in Bright Zinc Plate so they will not fall off your magnetic Screwdriver.
 More soon…………..
LDpart NEWS !  10 Oct 2010
NEW NEWS
Time to reopen the old news page with some new stuff.
What a summer! We have been so flat out all through summer we had no time to write up the news.
It was all work and no beer makes Peter a very dull boy. 
Now things have quietened down we can get out of the bins and back on the typewriter.
All the old news is still intact and present so if you want to find anything just use the Edit drop down menu in your browser and Find or Find on this page and type a word. 
An example could be 'clutch'.    I am just going to try it now and see what I get. Its bound to be newsworthy again!
Well I got the headline "IN OUR CLUTCHES" from May 2009
It says AP are in administration and ooo ooo er what will happen about clutches.
Well AP have been taken over by Caparro and guess what, they make the hydraulics for today's Land Rovers so great news for continued existence as Jaguar Land Rover output and Profits increase.
RESULT   We have plenty of clutch covers, plates and bearings in stock.
Yes we CAN CAN!
Again AP product is the topic.
We wrote to all email addresses subscribed to the LDpart mailing list about Clutch fluid Reservoir
These are not available anymore.  Is this important?  Yes
Because the top tends to become pinholed with rust.    This doesn't stop them working but lets in moisture
Then one day you use a Gunson Eezi-bleed which attaches the cap of the Reservoir to a spare inflated tyre.
This then pressurizes the pinholed reservoir and what do you get?
A Brake Fluid Fountain.  I had thought of naming it a BFF but that's a bit too obviously degradable.
So we are thinking of having some of them made.
We wrote to subscribers to find out about the importance of remaking them with the original writing, as the use of the writing would be with AP permission or even involvement.
LOCKHEED MADE IN ENGLAND
Out of 350 recipients, about 20 responded that if it was feasible they would like to see the writing retained.
So we have two avenues to pursue.
'With writing' and 'without writing'.
To make it 'without writing' in Stainless steel is not so difficult.  But it will not be seam soldered by hand as original.
To make it 'with writing' – it seems more complicated and costly and probably it would turn out very original.
We will keep you posted.
NEW ITEMS IN the SHOP
The last list we did was in April 2010  - Here is what we added since then !!!
Grommet 600395   1inch wide Wiper/choke
Camshaft Sprocket  149789
Jackshaft Sprocket 144895
Chain Guide Kit 
Crankshaft sprocket 143257
Red Grommet 600396 Genuine Land Rover
Boot board Quarter Turn Stud 623475
Complete powder coated Track Control arm with ball joint and polybush
Flange Head Self Tapping screw for Boot Trim boards 575939
UV Torch and Goggles for leak detection dye  BSL840
Valve Seat 150863
Cone Split Valve Collet  106663
Headlamp bowl in plastic with Chrome rim
Brake Master Cylinder  Reservoir 
55Amp Ford Alternator
Viscous coupling from Land Rover German made British Assembled
Radiator Support Panel
County Oil Pump
Jackshaft
HID Headlight upgrade kits
Reconditioned Stainless Sleeved Clutch Master Cylinder  (Sold out - Stock pending)
Brake Calipers  
U nut for Air Intake Screws  FJ2445
Road Springs Front
Road springs Rear
Re-conditioned Steering rack
Front Spring Pan 133546
Genuine GKN Universal joints  
10mm Copper tubing for DIY header tank connection
Bolt HB711   Holds fan to viscous coupling and Auto Shift stick at its base. 
Distributor Base Plate Set for Twin points Distributor With or without Electronic Module.
Speedo angle drives  
Headlamp Gaskets
Headlamp units (H4 Bulb)
Brake Servo Grommet for non return valve
Bridge seals for Brake Calipers
Carb adapters for the breather hose attachment 155148
Battery Box Side panels R and L
Battery box Back Panel
Power Steering Hoses
Socket Cap screws for cylinder head to timing case.
Carburettor Star Washer for the metering needle adjuster screw
Adjuster Screw for carburettor metering needle
Wire Wheel Extension Bevel nuts
Carburettor Pedestal Mounting Insulator  156249INS
Restored Inlet Manifold later type for Foot thermostat
And Lastly – To go in the shop later today  -  Reconditioned Servo Unit
Phew – time for my Sunday afternoon cup of tea I think!
Before I go 
BRONTE SAW US
Well true for Canadian Stag owners anyway.
Their British Car Day at Bronte Park in Ontario was if nothing else spendidly photogenic.
But what a Triumph for Tony Fox and his gang.
Over 1000 British cars and 37 Stags – an all time North American Record, terrific.
Just take a look at this
http://www.bsccoc.ca/stag40th/
LDpart NEWS !  24 May 2010
SIGNS OF THE ZEPHYR ZODIAC
Take a look at this. Ebay Item 130392912287
This takes me back to the sixties. I used to have one of these. See, there were not any Stags around then.
It cost me £150.    Haa ha ha Haaaa!   This one is £28,000  WOW!
Thess Ford Zephyr or Zodiac Convertibles were about it when it came to a 4 seater convertible that looked good, sounded good and went good.  Well there were Mk1's around but they didn't have that brash 50s styling and Rootes group stuff looked boxy. The Sunbeam Talbot was OK but a bit dated.
Mine was Red with white side panels.  Powered Hood.  3 Speed Manual with column change.  Bench front seat. 6 Cylinder 2550cc engine which was the most indestructible engine I ever knew.  Petrol cap behind the Number plate – smart.
I did 50,000 miles in that car ranging from a 2 mile commute to Unipart to massive European trips to Spain, Italy ( Isle of Elba) , and Switzerland.  With its front drum brakes (disks from 61) we learnt about boiling brake fluid on the Simplon Pass.
I spent hardly any money on it. Just new front tyres every 10,000 miles and some spark plugs now and again. 
In the end I was given a company car – At a young age (26) 3 cars were out of the question, so the old Zephyr went to the scrapper. (Look, I had had it for 5 years so its value was zilch)  But was it ever scrapped?   Probably, as it needed arches etc.
My point!
This Ebay Zephyr Convertible is now £28000.  It is from 1960.  Ten years ago you could get one of these for Stag money.
The stags were 30 years old in year 2000 and selling for £8000 - £10000. The Fords were 40 years old.
Suddenly at 50 years old Ford money goes up by nearly 3 times. 
So when the Stags are 50 years old, my conclusion is they must be worth 3 times their value today. 
So watch out for £25000 stags in 2020!   If we are still alive that is!
LDpart NEWS !  14 May 2010
THE PUBS ARE OPENING AGAIN
Pubs being Original Publications - Triumph Stag Catalogue, Repair Ops Manual and
Handbooks.

We have some very exciting news for you:

MTG Trading, who created CD's of all the above which were offered by Ldpart and only good
for windows XP or earlier, have updated System requirements for 2010.

They have changed the media from CD to DVD due a change in the copy protection that they
use on their products.

The new copy protection is compatible with Windows operating systems from 2000 through
Seven as well as all versions of Adobe Acrobat from version 6 through 9.

The DVDs can also be run on Apple Macs WHEN running Windows. A virtualization software
like VMware Fusion 3 will need to be used to do this.

Customers with earlier versions of these titles (on CD ROM) and running Vista can
continue to use them by downloading the Vista fix from Hexalock.com (suppliers of
protection on the CDs) or from the British Motor Heritage website

www.bmh-ltd.com/OTP/VistaFix.zip

but the earlier versions of Acrobat Reader (6 and 7) will be required.

(Please note as we use XP at LDpart we have not been able to try this)

MTG tell us, the only sure way to ensure ongoing compatibility is to purchase a new DVD
ROM. This is due to the copy protection that the manufacturers require MTG to use to
protect their digital assets.

We expect to receive stock of the new DVDs in early June 2010
LDpart NEWS !  17 Apr 2010
VOLCANIC ASH
Here is the latest from the Royal Mail Web site
We expect Courier Services to Europe will be affected by overload from rerouted Air Traffic
Royal Mail Service Update for all customers this weekend
---
General synopsis
The closure of UK airspace and airspace in parts of Europe since Thursday morning has affected our distribution of mail by air. This has impacted on some UK domestic mail, which travels by air at night and mail due to either leave or enter the UK via UK airports.
We have robust contingency plans in place to keep as much mail moving as possible, using alternative road and rail networks to replace air services. However, despite these contingency arrangements, there may be a small delay to mail being delivered in some areas, for as long as this situation lasts.
We're really sorry for any unavoidable inconvenience this causes, but please be assured we're doing all we can to keep disruption to an absolute minimum. We will get all services back to normal as soon as the situation allows.
Deliveries and collections
Normal deliveries are being made in all areas on Saturday; normal Saturday collections are taking place in all parts of the UK.
In Scotland and Northern Ireland, as well as parts of South West and North East England, mail deliveries may be lighter than usual as transporting mail to and from some of the more distant parts of the UK will take longer than normal without air transport. There may also be a small delay to mail in other parts of the UK as a result.
Special Delivery™ services - temporary suspension of next day guarantee
The closure of UK airspace has impacted on our ability to transport mail around some parts of the UK. We are continuing to accept and prioritise Special Delivery™ items and we are confident that if customers use this service, the vast majority of Special Delivery™ items will arrive on time. However, we use the air network to transport a proportion of our mail around the UK and because it has not been available to us, we cannot guarantee every Special Delivery™ item will be delivered on time, in all areas.
In order to provide customers with clear guidance, we are removing the Special Delivery™ guarantee for items posted on Friday 16th and Saturday 17th April.
We will continue to make every effort to deliver these items and will restore the guarantee of next day delivery as soon as we can assure customers we can honour the Special Delivery™ service promise in all areas.
Regular updates about Special Delivery™, national and international mail services will continue to be made available on these webpages.
International mail
International mail due to leave or enter the UK has also been affected by the closure of airspace and so a delay to mail leaving or entering the country is likely at this time. Mail leaving the UK for Germany, France, Belgium, the Netherlands and other parts of Europe, is being transferred to road services where possible. Mail for other parts of the world is being held in order for it to continue its journey as soon as flights resume.
Mail to much of the USA (zip codes 4-9) is being routed via a southern European airport.
We will continue to update these web pages about the status of mail services throughout this period; you can also keep up to date with services on twitter www.twitter.com/RoyalMail.
LDpart NEWS !  08 Apr 2010
SERVICE BREAKS
We need to do some supplier visits.
This means we need to tell you that orders placed on Friday 9th April may not get
posted until Saturday morning, so please order items you want next week before
Friday.
Also we will not be able to ship orders placed after on Monday 12 April until
Thursday 15th. So all orders this week will be held for the Thursday dispatch.
NEW ITEMS IN the SHOP
SE102061 It is a tiny screw to hold the ignition switch to the steering lock housing.
It is also used for the overdrive switch to the cap.
WP20 This is a very slimline washer that is 3/8 x 5/8 and is under the nut holding the
carbs on, and also used on the horizontal seat bolts.
Parts of the top mount on the front struts Outer bearing, inner sleeve in Stainless steel,
Drag Strut washers (original BL)
We have the nylon bush and rivet for the window lift channel
Also the webbing wrench to undo a spin on filter.
Sump Gasket for the BW35 autobox. It doesn't fit a 65 Box
The rear hub adjuster piece 134584
The water flinger for Water Pumps
145839 Timing cover gasket kit.
The handbrake cable.
The New SOCTFL Quarterlight seals.
VISCIOUS COUPLINGS
We stopped selling these for quality reasons.
However we are researching them at the moment looking for reliable unit supply.
They are a critical item so need to be up to standard.
Here is what is says in the Preliminary Service Notes dated 1970.
The torque limiting device operates on a principle of a shear fluid coupling in which a
driving plate anchored to the crankshaft transmits drive to the Driven plate via a film
of silicone fluid.
The driven plate is bolted to the fan which, at the maximum efficient fan speed, will
apply sufficient torque to slip the drive. Thus a maximum fan speed of 2500 is
maintained.
So nothing to do with temperature.
High speed fans are hugely powerful. They were used on the front of Spitfires (the
Aeroplanes) and they only had two blades.
If the coupling locks up the power of the fan will eventually back out the crankshaft bolt
and the fan will sail into the radiator
There can be three types of failure with viscous couplings.
A They can slip at too low a speed and cooling is compromised
B They may not slip when they should and that tends to the lock up effect above
C The bearing inside eventually wears out and the insides break up.
This will cause vibration and the blades can be easily rocked when they are on the way
out.
We are absolute devotees of removing Engine driven fans and Viscous Couplings and
fitting 16 inch electric fans.
We used to have the three reasons of
A Quicker warm up
B Use less petrol
C Better cooling when its needed
Just thought of another reason, which is not having to worry about these Viscous
couplings that have caused many owners grief out of proportion to expectation.
LDpart NEWS !  12 Mar 2010
New Items from SOC Spares Ltd
Did you see the SOC Spares advertisement in the March Stag Owners Club Magazine.
Somewhat different from their usual style.
They talked about some products that were now available, stating they were available from your usual supplier!
Hopefully you will be pleased to hear that includes LDpart
So we have on offer in the shop the Automatic Brake Pedal Rubber and the Fuse Box Cover. 
We did not put the door handle plastic in as there are pricier metal ones available.
We do not yet know what the general preference is.
STRANGE CHANGE!
This is changed advert and way of promoting parts is strange you may think!
What SOC Spares Ltd has decided to do is to concentrate on Wholesaling. 
They will be gradually stepping back from retailing direct to individual customers.
They will leave retailing to the likes of LDpart it seems.
WHO ARE THEY ANYWAY
Our understanding is as follows
Originally the owner Stuart Soutter was the spares secretary of the Stag Owners Club.
This would have been in the early 80s.
Things grew so fast that the club decided it would all be very much better if Stuart set up in business with his own Limited Company.
So the club dispensed with the post of Spares Secretary.
All parts would be supplied on behalf of the club by SOC Spares Ltd.   SOC Spares Ltd would get a special mention on Page 3 of magazines.
The only link with the club, apart from the purely non binding theme of common interest, would be that any Directors of SOC Spares Ltd must be members of the Stag Owners Club.
After a number of years SOC Spares decided to branch out in to other Classic Car Parts.
Their premises was then in Headcorn Kent.
Headcorn was later sold off to another Parts Company and SOC Spares Ltd just kept the Stag Parts part of the business and moved these to another premises.
Headcorn is now SOC Autoparts and nothing to do with SOC or SOC Spares or SOCTFL.
Try googling SOC Autoparts and you will see.
Someone somewhere really wants to confuse us all methinks!
So you have 3 distinct organisational groupings. 
1 SOC  Stag Owners Club. The members of this are owners of SOCTFL
2 SOC Spares Ltd Suppliers of Stag Parts – Developing Wholesaling
3 SOC Autoparts – Nothing to do with Stag Parts.
Our understanding anyway!
Long Life Ball Joint
A favourite complaint about cars made since the seventies is that manufacturers gave up fitting grease nipples to ball joints.
In the sixties and earlier the underside of a car was a veritable mass of grease nipples, almost all of them to disappear after this time.
The "sealed for life" type of component was fitted instead.
Trouble was, the life was probably not so long as that of the car.
Hence a healthy volume of business for makers of replacement ball joints which turned into an absolutely massive industry on a global basis.
Get them to last longer.
The way to do this is to fit a grease nipple to a new ball joint and pump some grease into it every six months.
How?
Buy new ball joints or track rod end. Then buy a grease nipple perhaps threaded 1/8 BSP.  Choose straight or angled depending on how you think you will reach the nipple with the grease gun.
Start by drilling a 3/16 hole in the sheet metal cap at the base of the joint.
Coat the drill with grease and go slowly at the end to get the grease to grab all the swarf.
Then use a small pipe tap that matches the nipple to thread the hole.
Grease the flutes in the tap to catch the swarf.
Now you can just thread in the nipple and "Bingo" you have a joint which can be serviced on a regular basis.
When pressing in a ball joint it can be done in a manner that aims an angled nipple inwards to allow gun access.
LDpart NEWS !  31 Jan 2010
Long Life Battery
The 150th anniversary of the lead-acid battery passed largely unnoticed last year.
We have found out a little more about Gaston Plante's 1859 invention with some help from Aftermarket Magazine and input from David Shield of Yuasa.
Despite being one of the heaviest electro-chemical systems, lead acid is still in top spot for batteries used in starting, lighting and ignition.
Maintenance Free 
Thirty years ago, they day!! Motorists had to top up battery electrolyte levels.
On modern batteries you don't need to.
Originally the addition of Antimony added strength to lead alloy grids but meant more water loss.
Over time improved processes have permitted a reduction of Antimony from 10% to 1.5%  using calcium.
This permitted the birth of the maintenance free batteries we have today.
Now Antimony is removed altogether and replaced with calcium-tin to give the so named  "calcium-calcium" battery.
Experts predict that eventually, very costly lithium solutions will replace the lead acid battery for hybrid vehicles but it is expected that Plante's invention can look forward to at least another decade as the battery choice for manufacturers.
That's reassuring!
LDpart NEWS !  22 Jan 2010
Chain Letters
As you may well be aware we were encouraged to offer German IWIS or JWIS (old German) timing chains by various knowledgeable authorities on the subject.
We put some into stock but within one month they had all been sold despite the high price we have to charge for them.
To our astonishment we find ourselves reordering these items are very pleased to say that the fresh stock has just arrived.
We are also currently sourcing sprockets and certainly didn't expect to sell all the chains before launching the sprockets.
Back to Normal
After all the snow and disruption to various services including power cuts and some Broadband downtime for an upgrade we are at last back to full normal operation.
We had some incoming orders stuck in City Link depots. We wondered why DHL and other carriers could deliver but not City Link.
It turns out that all their vans are rear wheel drive, whereas other carriers have FWD and can get through the snow.
However all our orders that were on their way are received now.
Quarterlight Rubbers
We still have some pairs of the new SOCTFL Quarterlight rubbers in stock.
Oddly enough it was always owners in USA or Australia that were pushing for these, yet 80% of our sales are to UK customers.
Stag Parts life is constantly full of surprises.
Whatever will be the next one.
LDpart NEWS !  10 Jan 2010
Warm Up
The warm up is now on the way.  We see a clear indication. 
The overnight temperatures here last week, which were close to forecast by the Met Office were
In Celsius
Mon – 9   Tue  -8   Wed -15   Thu -17  Fri -10  Sat  -7   
The forecast for the coming week is
Sun -0   Mon -1   Tue -1   Wed -0   Thur  -0   Fri -0   Sat +1
This means we will start to see a thaw in the daytime, and the snow will turn to slush.
Our forecast is that services will be all back to normal by the next weekend 16 Jan.
This includes all orders we are currently processing but not shipping.
This is because we do not want parcels "Stuck" in the system.
As you know we believe the delivery services deal with Backlog last so we hold off in these disruptions in order to become new business on resumption of services.
The Wider Picture
No doubt there will be a shortage of green vegetables and root vegetables. They are stuck in the frozen ground.
Imports will cost us more so watch out for price increases.
This is going to bring back our old enemy called Inflation.
This may well mean the end of 0.5 Bank Rate.  Shame… it was rather helpful.
Projects
We have recently launched expensive IWIS or in old German JWIS, timing chains that are used on Mercedes and BMW cars.
For Mercedes they are not a service item. They last the life of the engine.  They will carry over 1 Ton before they break.
We saw a Mercedes forum posting from an owner who had been used to cam belt changes and now had IWIS chains.
He asked "When do I change the chains? It's not in the manual and they have done 170,000 miles?"
The reply came.
"You do not have to change them."
He responded "This is Ridiculous. Surely they need changing after such a mileage!"
"It is a MERCEDES!!! They are not changed!!"
This means they do not break and are not stretched much either.
The tensioners will do a lifetime job of keeping the chains tight.
Sprockets
These will be the next thing we offer.  We have checked in several places and understand perhaps there are sprockets out there with the mount holes in the wrong place.
Lay a 12ins long straight edge across the mounting hole centres.
The straight edge should pass over the point of a tooth each side.
If the straight edge bisects a valley then the timing is 4.5 degrees out.  This will impact performance and may cause strange overheating after a timing kit is fitted.
Watch out for our offering as we may have to have new mounting holes redrilled at 90 degrees (or rather 94.5 degrees) to the existing ones. 
Back to work now.
OK we have to start getting on with completing orders as
"Normal  Service will be resumed as soon as possible" 
LDpart NEWS !  6 Jan 2010
Going Nowhere, probably for some days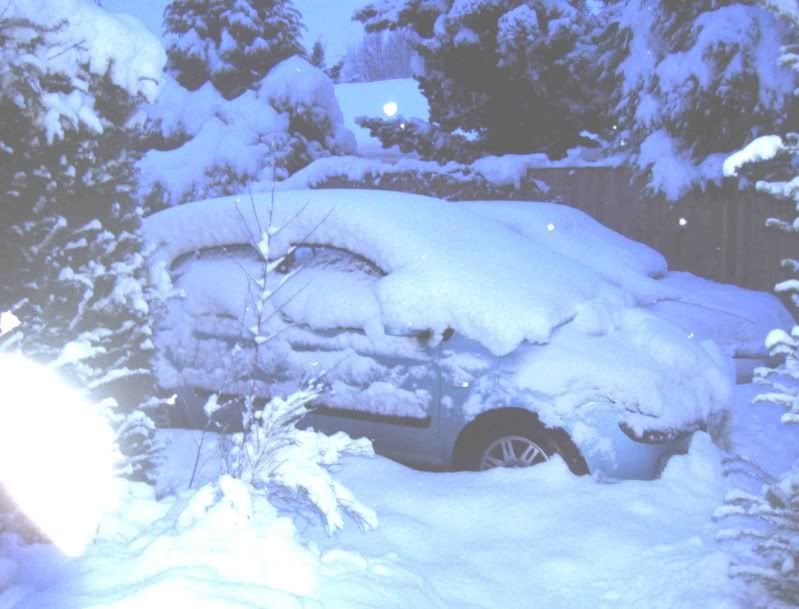 We have never seen snow like this, it looks deeper than 1947.
We have 27 cms here and being in a Village no one is going anywhere, probably for several days.
This cold spell will last for two weeks so we cannot predict when our order will start to move again.
To find out what things are like for you go to 
This will give you the weather at many places in the World.
Here is what we said on Jan 6 2009
Keep your Stag running in the cold.
My goodness it was -12C last night.  We are talking Oxfordshire UK here.   Benson Air base in fact where there is a UK Metrological Office weather station.   
Decided to start up the Stag this morning but already it had warmed up to minus 2.
The stag started on the second pull but it seems the battery could do with a charge.
This cold weather will take it out of your battery so the Stag really needs to go for a run every day to keep it sharp and starting.
If the battery is the slightest bit down, then starting will suffer as the fuel needs the fattest spark it can get.
If all the power is turning the engine and the radio volume is reduced then so is the spark.
So last Jan 6 we had -12C but no snow.
On Jan 6th 2010 we hear that in some parts of Britain is will be -20C tonight.
Is this something like Greenland or the Polar ice cap?
So it's due to Global warming.
No actually it is!!
The Polar Ice Caps and Glaciers generally are melting.
This means millions of gallons of fresh unsalted water getting into the Atlantic Ocean.
It drops to the bottom and then moves south at the bottom of the sea.
This then disrupts traditional currents in the worlds oceans.
The current that keeps Britain and Europe warm is the Gulf Stream Drift i.e. Mexican Gulf water.
It comes across the Atlantic Ocean and the mass of fresh water from the melting ice has disrupted this warm flow.
Consequently we have Siberian conditions in UK and some of Europe.
We are hoping now that the buses will run and we can get along to the main road and take a bus to get food.
Yes it is really back to survival basics, if not today, as we have food and heating oil and power, but for how long?
All plans are dropped now as we see how we can progress through the next 14 days.
More bulletins through the forthcoming days as we see how the situation develops.
LDpart NEWS !  7 Nov 2009
Postal workers deliver truce!
So the postal strike is over for the time being.
After an acrimonious series of failed talks suddenly the Posties are going back to work.
Our Guess.    
The Royal mail are taking on many more temps than usual to deal with Xmas volumes of mail, because they have excessive backlog due to strike action.
The Union have said; hey wait a minute we are going to court as this is strike breaking and illegal.
We think those clever Royal Mail solicitors have argued that the hiring of temps is normal at this time of year and therefore normal practice.
Also it is very likely there is no cap on numbers in the agreement, so our learned plaintiff's lawyers have probably told the Union, look chaps very sorry but you are not going to win this claim of strike breaking.
Go back to the drawing board.
So the union has decided it is a waste of time striking when the temps can be hired i.e. in the run up to Christmas.
So although they haven't said as much, we believe there will be strike around Easter perhaps when lots of people send cards. 
The CWU are very stubborn and will strike deep and hard in the spring.  
Unfortunately for them everyone who wants to send a letter will send and email instead.
We hardly ever write cheque these days all our suppliers are paid by the company credit card, or we make an online transfer.   Our personal credit card payments are all done online or by telephone.
As we are located close to many of our suppliers we can visit them and give them a cheque.
The only items we get by post are Magazines. 
As regards packets we have been offering Collect Plus (Google it) and it takes a day longer BUT it has the great flexibility of delivering packets and parcels to a Shop or Filling Station near you.  Most of these are open late, so you collect at your convenience. No waiting in all day for the Postman.
Unfortunately they have a size limit of 50cm which is too short for Head Gaskets and Valve Cover Gaskets so they have to go by Royal Mail. 
So order those before Easter!
We also have our own trick of knowing when to post in a strike situation by choosing the right day and time of day to post items.   Our local Post Office lady laughs when I tell her this but mostly our items get through.
Only Head Gaskets and Valve Cover Gaskets sometimes get stuck.
Why?  We think there is a high shelf at the sorting office and a short member of staff.  The parcels generally turn up in the end perhaps 14 days later.
At the end the union will not be able to resist the new machinery. It will be installed eventually. In ten years time it will have been operational for at least eight years.   It is just a matter of time.
The union will want the machines to try and win back the business they have lost.
LDpart NEWS !  14 Oct 2009
Strike! A Light!
We have now found a possible way of getting goods to you in a Postal Strike.
It is called Collect Plus. 
The concept is based on delivery to collection point by the shipper and collection at another collection point by the recipient.
So we take the goods to a Petrol Station near here that is open 24/7 and you then collect the parcel from a Supermarket or some other business that is also open 24/7 near you.
They have organised 3000 pickup points over the UK.   Most are within 2 or 3 miles.  In the more remote areas you are looking at 8 to 10 miles maybe more we haven't checked every postcode.
It only works for UK.
Look it up on the internet.  It is called Collect Plus or Collect+
Their charge is £3.99 (Not ours) for up to a Kilo which covers many of our shipments.
So we are adding a check out extra which is Collect Plus free of charge on orders over 0.4 Kilos
These are orders where UK Carriage is £4.30 or more. (Ours includes Packing etc)
The main problem with this service is it is untried by us and will probably be very over subscribed in the early stages.
On the other hand they will email you or text you the arrival of your item at the pick-up point.
 Small Overseas or European Orders will be affected and the only thing to do is build the order so we can use a courier service.  This will mean an order generating a Carriage charge of £7.00 or more which is 0.5 kilo to Overseas (not Europe)
By all means e-mail us to work out the best way to build/ship your order.
LDpart NEWS !  25 Sep 2009
The Triumph Stag Essential Buyers  Guide   -   A new book!
We are now taking orders for this new book or booklet.
It is a pocket friendly 64 page guide to take with you when looking at a car.
Features
• Stag enthusiast Norm Mort teams up with restorer and Stag expert Tony Fox
• Comprehensive guide reveals the Stag's strongest and weakest points
• Details of all model changes made throughout production listed
• Unique and rare options
• Features 100 PREVIOUSLY UNPUBLISHED PHOTOGRAPHS
• Models produced for European and North American markets
• Engine and detail photos
• Production data and original road test info
• Common problem areas
Description
This Essential Buyer's Guide on Triumph's popular Stag examines the model's evolution, features, fittings, performance and typical problem areas through detailed text and colour photographs of both restored and original examples.
Synopsis
Stag enthusiast Norm Mort teams-up with Stag restorer and expert Tony Fox to write this handy pocket-size guide. Triumph's Stag combined the smoothness and performance of a V8 in stylish Italian coachwork designed by Giovanni Michelotti, which allowed for both closed and open grand touring. This Essential Buyer's Guide examines the model's history, evolution, features, fittings, performance and typical problem areas through detailed text and colour photographs of both restored and original examples.
Like Veloce's other Essential Buyer's Guides this book features chapters such as "Is it the right car for you?", a very detailed checklist for rating a potential Stag purchase, advice on deciding whether or not to restore a Stag, paint problems, issues that can arise through underuse, and lists of clubs and spares specialists.
Tony Fox bought his first Stag in 1991, and a total of ten other Stags came and went in the years that followed. He is a director for the Triumph Stag Club, USA and coordinator for the Stag in the Toronto Triumph Club.
A Triumph and Stag enthusiast, Norm Mort has written for car magazines and newspapers for the past 25 years. This is his fourth book on automotive history and restoration.
UK Buyers please order single copies only and  change your country to UK ZERO VAT .
LDpart NEWS !  19 Sep 2009
Header Tank
At last we have a bit of a breather and have time not only to update this page but advance our header tank project a little further.
We are using a Mercedes Tank as it uses a standard Stag radiator cap and also has a couple of terminals for an analogue level switch.
We will connect this via the Temperature warning light. If the light comes on really early we will check the level.
It is exciting to think at last we will know how the cooling system is behaving and be sure of expelling all air.
We will tell you how we have done it in a future news piece.
Springtime  for oil pumps 
We have seen emails and taken calls recently about recently supplied oil pumps and the high pressure they deliver.
We do not offer one yet, but if we do it will almost certainly be the one you can buy everywhere else.
However we would be unhappy with the pressure being reported, up to 100 psi in one case, and would to want to offer a product like this.
The high pressure is a function of the relief valve spring rate.
The principle of operation is simple.
The oil is picked up in one chamber of end cap, and squeezed down into the other and onward into the engine where the tiny places it must pass provide resistance.
Thus the pressure builds as the revs rise.
The two chambers are connected by a cylinder with a plunger on a spring
When pressure reaches a set point it is enough to overcome the poundage of the spring.
The bucket shaped plunger has side holes near its base.
When the plunger is forced back enough the holes are exposed to the arrival chamber so pressured oil is leaked back into this chamber.
Thus the pressure is stabilised.
The pressure reached is determined by the spring.
As revs drop the pressure drops as well and the valve closes to get all the pumped oil out into the oil galleries.
If the pressure is too high then basically the spring is too strong.
We have an original Hoburn Eaton Pump and we can tell you that it takes about 3 Kilo weight to compress the springs open coils by 3/8 inch.
We are going to see if we can source suitable springs from another make of vehicle, as very many oil pumps work on the same principle.
Then we will offer them as well as the pumps.
LDpart NEWS !  2 Aug 2009
Copper Bottomed Chrome Plate!
We have just taken delivery of some Chrome Plating work we had done on our car. 
Now we know the difference between good and average work!
In this site under Links (see left hand panel) we suggest S & T Electroplating, Yate as the place to get your plating done.
It would even be worth it for overseas owners on the smaller items.
We are now convinced of this.
Forget your local cheaper plating supplier, or your stainless steel bumpers which do not have the telling look of copper bottomed chrome plate.  (Actually chrome plate is copper bottomed!!)
 We had rear bumper corners repaired and plated by S &T in 2002.  This job had to go to them as the two or three local platers could not make the repairs to the workpiece.  There was as usual a hole big enough for a 50p to pass by the brackets. 
Our local plating suppler said "oooph" too far gone we cannot do anything with that, but we will do the centre section and the over riders.
S & T advised over the phone, no problem we should be able to do it.
They were not cheap at over £100 per corner, but what a wonderful job.
After 7 years, and being put away in December 08 after a really wet and salty journey, we thought the bumpers and other parts of the car would corrode.
In June we come to prepare the car for MOT and decide a clean of the chrome is in order.
What do we find?  Big rust splodges all over the centre section of the bumper, and the overiders.  Even a piece of chrome has fallen off leaving copper base on show.  
The corners, have sat wet and salty since December and which are 7 years old, clean up to perfect.
Even a new front horseshoe section fitted in 2008 is pitted, whereas the old original horseshoes are still virtually surface perfect.
So here is what we suggest.
Never buy new chrome parts from a supplier.  Always rechrome what you have.
Stainless steel bumpers cost over £1000, and rechroming by S &T they tell me is less. 
This chrome lasts 5 years of daily driving followed by 2 years of occasional use and being stored wet.
If you must buy a new piece of chrome, like the Horseshoe, we think it is better to have a used one rechromed.
Even if you buy a brand new one, have that rechromed as well by S & T!
These guys know how to chrome plate for very long life and we have proved it, well over 7 years. 
We do not know how much longer they will last but they look great.  Perhaps if we waxed them they would last for 20 years.
LDpart NEWS !  14 Jul 2009
Somethin's gotta give!
Yes, that is what we said in March 09 not realising it would be our news page during this busy summer.
So we had to put the News Page on the back burner.
We have recently had our site reviewed by  Business Link. The graduate who prepared the report said our News page was very current!!
Well it was almost 30 days out of date so what are other sites like we ask ourselves? At least it made us feel better about a lack of stories.
We however HAD to include this following piece as it is something we believe in.  We don't want to kill off the Stag engine as it sounds so good, but greening up the rest of the car is very much our scene.  The Tate and Lewis four speed box, for example, is a very good thing to do it seems to us if you like Automatics.
JULY 2009
Is your classic engenius?
Future's Classics Monthly magazine has launched the Engenius Awards 2009, and is on the hunt for the best classic cars which have been adapted for modern motoring conditions and energy considerations - bringing together the best of old and new technologies.
The awards celebrate the beauty and originality of a classic car which has embraced future technology to create what some enthusiasts would call, an all-round perfect car. A six-speed gearbox in a Morris Minor or an economic Bio-diesel engine in a Jensen Interceptor are both examples of 'engenius' engineering. Engenius classics and their owners are not the same as other classic car enthusiasts; they're a different breed who want the style and individuality that their classic brings, but with a modern twist which allows them to tailor it to their personal requirements. These engenius classics could be hiding out there! Classic car devotees could win one of the two Engenius Awards in recognition for their engineering prowess, hard work and dedication. Both awards recognise work that demonstrates fuel efficiency, performance, reliability and environmental awareness by evolving the car's usability - with the 'Industry Award' going to a company or specialist, and the 'E nthusiast Award' going to an individual. To enter, get this month's issue of Classics Monthly, available from all good newsagents' and some bad ones!
LDpart NEWS ! 31 May 2009
Now its getting serious!
Thanks to the high volume of customer's orders, we have been fully occupied but at last find a moment to communicate some news to you.

The main piece of information to inform you about is that we have established LDPart as a Limited Company and as from 1st June 2009 our invoices will be made in the name of LDpart Ltd.

This will have zero operational impact on customers save those who, happy to wait for a few days clearance, send us cheques, and after 1st June 09 these will need to be made out to LDpart Ltd.

There will be some slight changes to the web site like the wording on the invoice and notes in the Terms and Conditions.
<![if !supportLineBreakNewLine]>
<![endif]>
Time for a break

We also wish to take this opportunity to inform you that we will be closed from Mon 8 June 2009 until Fri 12 June 2009 for holidays.
You may still place orders after Mon 8 June and they will be acknowledged (Subject to resort Wi-Fi) but not posted or shipped until after 12 June 2009.

So if you are thinking of buying any parts from LDpart for early June, please order before 3:00pm 5th June 2009 for the usual next day service for small orders up until 15:00hrs (UK orders). If it is for more than ten order lines, best to place the order on 4th June 2009.
LDpart NEWS ! 23 May 2009
Stopping the rot!
The UK members of parliament (MPs) are falling one by one as the rotten parliament falls apart.   Some M Ps are just about hanging in there as the appalling selfish greed of those who we elected is paraded daily by the Daily Telegraph. Others are defending their excesses with hopeless affront.
The Archbishop of Canterbury has concerns about Democracy. 
Well he needn't worry, unless he has some expenses! 
Democracy is fine. 
Democracy is a great system.
If the measure of a great country is having huge numbers of happy successful people, then it seems Democracies provide this outcome more often than other systems.  A benign dictatorship could be better but it is not enduring. Democracy is best for everyone.
NO worries about which system to have then.
Just worries about how well it is being done by the present incumbents.
The UK Parliament is like a rusty Stag.  You know the situation. A few rust bubbles in the sill, and some on the wing.  The paint is removed and there's more rust. A lot more.  As you remove the rusty parts it starts coming away in handfuls as all this corrosion has been going behind the shiny exterior paint.
How do we deal with it.  We ruthlessly cut the rot away. Slice it out with an angle grinder. Chop every single rusty piece away.  If you simply try to repair it with rust removing products the rot just comes back again and again.
When the shell is completely cleaned out, restore the shape of the body with fresh panels that are untainted, strong and new.
This is exactly what the UK has to do with its Parliament.  Ruthlessly cut out the rot. Get rid of the Iffy MPs. Remove the ones who have tried it on and got caught.  Sack all the expense system abusers.  Clean out the doubtful panel members.
Then rebuild the whole Parliament with fresh new MPs. I am sure there will be plenty of willing people. They are usually queuing up to stand at elections.
If you are doing a Stag its expensive so some are scrapped. 
If you are rebuilding a Parliament it is not expensive. Actually it is cheaper than funding all the excess expenditure of the rotten lot.
The result of properly and thoroughly rebuilding and restoring a Stag is a stunning looking car with superb performance.
The result of properly and thoroughly rebuilding and restoring a Parliament is a stunning looking country with superb performance.
It is probably the best thing that has happened to the UK for years and years.
A bit like the Stag really!
LDpart NEWS ! 12 May 2009
Get the picture.
Do you get those times when you see something on your computer screen like an Ebay item listing or an unexpected screen that frustrates a web site process like making a paypal payment.   You want to share the issue but how?
You can take a picture of the screen!
If you already know how to do this then the following is not for you.
So you come to a problem screen.
What you can do is take a picture of the screen. There is a key on your keyboard usually top right, that is called Prt Sc or "Print screen".
If you now hold down "Control" and then press "Print screen" you have saved the screen to the clipboard. (The Virtual clip board where items are stored after a "Copy" command).
Now click on Start – All Programs – Accessories – Paint.  Open the programme called Paint.
Now using Edit drop down menu select paste.
Now you have a picture of that screen that interested or annoyed you.
You may not want the whole picture, so use the Marquee tool to cut out the bit you want.
The marquee tool is a dotted square on the left.  If you do not see the tools, the brush the eraser the spray can, then click "View" and select "Tool Box" from the drop down menu.
Now select the Dotted square. It is called a marquee tool although in "paint" they call it "Select".
Using the tool and your mouse you can drag the tool around and select a portion of the Picture.
Then cut out the bit you want and paste it into Paint. You will be asked if you want to save but skip this.
When you have the picture you want, save the file with a suitable name to your desktop or any other place you want this file.
Now you can attach it to an email.
Wow that feels better doesn't it.
If you want to see more tips write to me at peter@LDpart.co.uk  
Tell me if you want your mail published in this latest column.
OK Training course over.  Till the next time – keep enjoying that Stag!
LDpart NEWS ! 08 May 2009
The Triumph Trans-America Charity Drive 2009
Here is John Macartney's latest report!
I'm going to be taking a few days off this coming week, so won't be at my keyboard to
answer queries any of you may have about developments for Triumph Trans-America.
There have been some updates on the site that you may not have noticed.
1. The Stag.
Joe Pawlak and the Worshipful Company of Busted Knucklers at ISOA have worked truly
wondrous things in bringing 'uncle jack' back into running order. Just LOOK at that paint
finish!!!! At the time of writing, while we don't have the very latest pix of the car
with the lights and grille fitted (with all the stuff that goes behind them) I'm sure
you'll agree this car is amazing.
2. The Route page
Has been updated several times as news comes in from the Clubs about the plans they have
for taking part in the event. For those of you in Florida and especially within easy
reach of Daytona Beach, there are more comprehensive details about the START itself and
what will be happening when things get underway on 27th June.
3. Media Coverage.
It's also worth mentioning that interest is building in the UK - even though the event
won't be taking place there. Several UK clubs in Rotary International have also most
generously pledged money for all THREE non-profits which I feel is not only very generous
but most commendable as well, because many organisations and individuals only tend to
support what's going on in the own backyards. There's also additional coverage from a
substantial regional newspaper and the link to the article in question - published on 1st
May, is already on the Home Page of the site.

In less than two months, we'll be on our way!
www.triumphtransamerica.org.uk
LDpart NEWS ! 06 May 2009
RESPONSE TIME
New Scientist magazine's Feedback page reports that the Ikea furniture store responded to the online contact form submitted by Anne Lane with the message: "Thank you for contacting Ikea. We will respond WITHIN the next 24 hours, if not sooner!"
That is our aim too!
LDpart NEWS ! 03 May 2009
STAG FLU UNABATEABLE
Although it is virtually incurable Stag Flu is something that will actually prolong life as opposed to shortening it like normal flu can in a few regrettable cases.
Stag flu creeps around the place almost unnoticed as a kind of background psychological reprogramming bug. When it strikes the victim is powerless and the infection is fully expressed as the victim finds they are now suddenly and irresistibly drawn to the idea of owning one of these cars.
Eventually the victim locates a car they can afford, which they feel they can restore, or which needs nothing doing to it.
The victim that purchases the fully restored or great original condition car will be worst afflicted as many of the cures for Stag flu, like fighting to repair the bodyshell, or struggling for ages with incorrect parts in the carburettor before understanding they are incorrect will only affect purchasers of the lower cost cars.
Other good cures are failing to solve problems with the strange and costly uneven tyre wear or being constantly defeated by the stiff hood frame.
When exposed to enough of these frustrations, Stag flu will almost be cured and in some cases it is as the victim finally manages to struggle free from the affliction and sells the car swearing never ever to have another.
The cure is not necessarily permanent as a visit to Stag Owners Club National day can trigger the deep seated virus into action again and unless some bad memories are quickly brought to the forefront, the Flu will return as the once cured victim now starts looking for another car.
It is not a dangerous condition and will prolong life by providing access to a medium for the complete and healthy detachment from the normal stressful woes of life, like paying the rent or wondering where your teenage children really are this evening.
There is however one slightly risky area which is known as the wallet.  This can suffer considerable damage as a result of Stag flu but, well, who ever said a long life was necessarily a low cost life. 
LDpart NEWS ! 26 April 2009
THIS SCHEME IS NUTS 
In UK as you see below we have this new crazy scheme.
Your 10+ years old car is worth a £2000 handout provided
<![if !supportLists]>A) <![endif]>You buy a brand new car
<![if !supportLists]>B) <![endif]>You have owned the old car over 12 months
<![if !supportLists]>C) <![endif]>It is MOT'd
We have been looking at T plated (April 1989) and earlier cars.
Most of the ones we see are in fine condition.
So we have a scheme that will scrap perfectly good cars to replace them with brand new cars.
Madness. 
The cars are too good to scrap. 
Who is going to be able to afford the difference?  Your ten year old perfectly good car is worth £200.
When it gets too rusty or too dirty or worn out, you will buy another used car, not a new one.
We saw an M plated Jaguar XJ40.  There is no way the owner of this car will buy a brand new Jaguar at £40,000 or change to a brand new Citroen C1.
He runs a Jaguar for goodness sake.
If you hear of anyone who is taking advantage of this scheme write to us and let us know.
We will be very interested.
LDpart NEWS ! 23 April 2009
DON'T YOU DARE –
Trade in your slightly crusty Stag for a Peugeot 107 or a Citroen C1 after the UK scheme was announced as part of the budget.
These cars cost about £6900 - £7700 but if you trade in your restorable Stag (tragedy) you van get one of these for £4900-£7700
But as usual with these things it is not as simple as that.
First
Around half the cash on offer will come from the Government and the remaining £1,000 or so will come from car companies themselves.
So are the manufacturers going to keep those prices?  Hmm one has to wonder
Also
To avoid a black market, all relevant cars must be registered with the DVLA and have a current MOT test certificate, while the registered keeper must have a UK address and have owned the car for a year.
Oh Joy!  No one can buy up old SORN stags and earn two grand.  If you have a Stag with an MOT it's got to be over £2000. Hooray we are safe.
LDpart NEWS ! 17 April 2009
Forth Road Bridge needs new nuts
The Forth Estuary Transport Authority says an interim report into the failure of nine heavy-duty nuts on the Forth Road Bridge decided that all 1,888 similar nuts on the bridge should be replaced with bigger ones. The nuts hold 192 cable bands to the bridge's main cables - metal castings over which the steel rope hangers holding up the roadway are looped. All the cable band nuts and bolts were replaced in the late 1990s with new, smaller, harder nuts. It is nine of these that have cracked There should be minimal delays for traffic and no, the story didn't emerge on 1 April.
We probably don't have a big enough size for this.
From the Transport News Brief as part of a free service from the Society of Motor Manufacturers and Traders
LDpart NEWS ! 13 April 2009
SOCTFL  AGM  NEXT SUNDAY
On 19 April at the Heritage Centre Gaydon  (J12 on M40) SOCTFL (Stag Owners Club Tooling Fund Ltd) is staging its AGM.
Members of Stag Owners Club (SOC) have all been invited by a Notice in the Club Magazine to come along to this event where Coffee is served from  and the formal proceedings start at .
If you are looking for something to do and are a member why not come along and hear who is doing what with regards to Parts development.
If you are not in UK then why not send in your Tooling Fund question from wherever you are?
You can also ask questions about any part and someone present will know the answer or email you.
If you can get along and are feeling really bold you could even volunteer to help, by taking on a project and attending four meetings per year which at the moment are held just off M40 J5 at the Fox Country Hotel Ibstone on Fridays early evenings.
If SOCTFL do not see some new volunteers very soon it might just fold up as it is down to four directors and a secretary and two of these are coming up for retirement after decades of tireless and much appreciated service.
SOCTFL under its articles, and even if they were changed, cannot seriously function with two directors and a secretary.
As well as all the fun of the meeting you also get to visit the Museum Free of charge according to the last SOC Magazine, but bring your membership card in case someone wants to check it.
I have not mentioned the most important part of this event from your viewpoint.  It is that dreadful word bandied around by Institutes, Federations and Government sponsored business organisations, and called Networking.  The word is corny but when it comes to a club for a Classic Car it takes on new meaning because you can meet so many people with the same dedicated interest as you have.
Here is the weather forecast for Sunday 19 April
Forecast

Partly Cloudy
High 15°C
Low 6°C
Chance of Precipitation.
10 %
Or go to
http://uk.weather.com/weather/10day-Banbury-UKXX0209
So go on, make it a date and get that Stag out, put the hood down and get off to Gaydon, because now you have SIX reasons to go. (SOC Members only!)
Oh there is another reason, I nearly forgot, we can deliver your order and save postage on heavy parts, or even light ones.
Just change your Country to UK Collecting when checking out.
We will bring your items to Gaydon.
LDpart NEWS ! 31 Mar 2009
Somethin's gotta give!
President Obama has set seriously difficult targets for troubled GM and Chrysler, USA auto manufacturing giants.
If these two companies do not come up with sensible "Restructuring Plans" they do not get the bail out money.
Oooh Dear.  With the USA parts companies getting 60% of their OEM (Original Equipment Manufacturing) sales to GM, any failure of GM will bring down the Parts Makers, and that in turn will bring down the rest of the Industry in USA.
It really begins to look like American Cars will be history before long.
With worldwide car making capacity at 90million cars and worldwide demand at 60million, as the old song goes, when a "Rock meets a Hard place somethin's gotta give!"
Well it is terrible for jobs in USA and all those people involved in the industry who will need to find new jobs.  As we saw a month or two ago in this News column the wealth of a Nation is its ability to work, for itself and for others.  The Americans will be truly tested here.
It is not so bad for the Planet however.   Less cars being made equals less Carbon etc and stuff that's bad for the environment and global warming. 
Take this to its logical limit and the cars we have today can go on for a very long time.  If you are interested in Stags you can see where this is going.    If everyone kept their cars like Stags and everything else, the annual demand would not be 60million cars but maybe as low as 6million cars.   Keep 'em going forever we say.  Well we are slightly biased. But what a great argument for keeping Classic Cars and using them. Lets all do the Daily Driver!
LDpart NEWS ! 29 Mar 2009
STAGFLATION
We believe this means "excessive use of the Triumph Stag" and as such we think that such eventuality is extremely unlikely as Stags cannot be used excessively.
The wise guys and gurus of Government and Public institutions have been fearful of Stagflation but their fears are relaxed on the latest inflation figures.
This shows 3.2% in UK and it is because of the weak pound and much importation in the area of food and clothing.
This measure is the Consumer Index.
The top people seem remarkably lacking in astuteness when it comes to forecasting the economy.
It seemed to us obvious that there would be an inflation hike on this measure, one that removes house prices from the equation.
If you leave house prices and mortgages in the pot, which is a measure called RPI or Retail Price Index, then we are at 0% inflation.
They talk about the need to raise interest rates now to stop inflation.
Do they not realise that this will raise inflation.   Demand for food and clothing will only be stopped marginally by increasing interest rates.
People need food and clothing.
It is demand for non essential goods that can be controlled.
IF interest rates are raised, then house prices will fall further, the housing market will dry up. Car production will fall further and unemployment will rise.
G20 are smart it seems to me. Smarter than the UK people it seems.  We cannot go on spending money we do not have.
Most countries seem to understand this.
So when your normal everyday car becomes uneconomic to repair, don't buy a new one, use your Stag. 
Spend the money on keeping your Stag in good shape as it if we are hit with inflation then your Stag will go up in value while the prices of other cars falls.
Then use your stag everyday. We used one daily for 16 years and only had three breakdowns. 
1) Split hose due to poor quality parts. 
2) Broken throttle cable (How stupid was that, always carry one in the boot and a screwdriver. Changing it is easier than getting the spare wheel out.
3) Fuel line broken, old parts.  So the fuel line needs to be checked over fully during the annual service.
So daily use is really highly possible.
Try it.  It is called STAGFLATION.
LDpart NEWS ! 27 Mar 2009
IN OUR CLUTCHES
Things have been so busy we have neglected this News page. 
This is inevitable as we grow and when we reach the size of needing another member of staff the update will be more frequent.
We need to tell you that although you cannot find a clutch at the moment we can offer a clutch.
It is in separate parts.  We are about to load up clutch covers and the release bearings.
As our price on the clutch plate is really good, the kit you can make up by selecting the items separately will be competitive we feel.
The cover and the plate are from AP (formerly AP Lockheed) who actually manufactures the Borg and Beck Branded items.
Unfortunately AP is in administration at the moment and whilst we are still getting product from them things are highly uncertain for the future.
Perhaps we should get ready via the SOCTFL hat for the time when field stocks at all suppliers dry up.
If you have a Laycock Clutch cover and can get it refurbished that is the route to go on those, do not chuck them.
Must rush ---   hopefully more sooner rather than later
LDpart NEWS ! 8 Mar 2009
WATER PUMPS
Time to talk about Water pumps again we think.
Let's consider this strange affair that graces the Stag engine and the Slant 4 of TR7 and Dolomite fame.
We haven't yet worked out why these engines have a shaft driven water pump other than the Slant 4 engine was designed for racing, and when racing, the last thing you need, is a slipping water pump belt.
Of course your cooling fan needs to be crankshaft mounted so it cannot be overdriven.  But then for racing we aren't too bothered about idling, are we, as we will not be doing much of that.
So our Rally Legends of SAAB and Dolomite can be created.
So it is a shaft driven pump.
Why then are there so many water pump shaft failures reported from time to time over the years, and why do they mostly happen when the pumps are fitted on Stags.
Also why would Unipart, who made these pumps from  around 1978 until the mid 1990's, refuse to pay out warranty claims on the pumps that suffered mangled shaft gears.
 If there was a manufacturing issue, then Unipart would have sorted it.
They always claimed the problem resulted from incorrect fitting.
INCORRECT FITTING
Why?  
Rarely because the top bolt had been engaging with the cover due to incorrect gaskets being used.
Perhaps because the bottom bush in the block had not been changed.
However, as far as we know, not ever because the hardening was insufficient.
Unipart always asked for failed pumps to be returned for inspection.  They found evidence to suggest incorrect fitting in all cases where the warranty claim was rejected.
They could not be more specific than "Incorrect Fitment".  We expect that was for legal reasons.
We know of not one single occasion when any court action was brought against Unipart for not honouring warranty on a Stag water pump.
We can have a guess and  suggest we have good reason to believe that the failed water pumps had been in contact with non original Jackshafts with incorrectly angled gears.
Not only was this implied once by the engineer responsible for the product at Unipart, but also our own observations of failed shafts show distinctly that the wear on the gear teeth is not as one would expect if there was insufficient lubrication.
All the worn shafts we have seen have strange wear patterns.
WEAR PATTERN
Each tooth on the shaft has a flat edge which looks rectangular viewed end on.. 
We notice on worn shafts that this rectangle is worn to a point at one end, in other words the bottom of the tooth is worn but not the top. 
Also the shafts are blue from heat.
Adding this altogether we can only presume there are or rather were some rogue Jackshafts out in the field.
They had the teeth cut maybe  ½ a degree out.
We do not believe in the notion that the pump shafts were insufficiently hardened. If that had been the case Unipart would have paid out the warranty and sorted it very quickly we can assure you of that.
Think about it.  The water pump does not have that much of a load on it. In theory it seems to us the shaft could have almost been made out of very soft material and survived.
Actually a number of cars have pumps with impellers made out of plastic.
Once the car is cruising the water is very easy to move.  
However some many of the pumps we heard about failed in under 2000 miles.   How do you mash up shaft gears in under 2000 miles when the gears are mating perfectly.
Of course if they are not, well it's not going to last very long it seems to us.  
MORAL
When overhauling the water pump keep the shaft that has been successfully mating with a Jackshaft for many miles.
If a Jackshaft change is unavoidable then it is suggested the new one is checked using engineers blue or some means of measuring the angle of the driving teeth.
A motor engineer or engineering shop perhaps can be engaged for this purpose.
If True Blue is not presenting return the new Jackshaft as unserviceable. 
LDpart NEWS ! 26 Feb 2009
LD Not V
For those of you who do not know LDV make Vans in UK, and have been recently refused Government help in the current crisis being owned by a wealthy Russian. The British Government decided the owner was sufficiently well off to not need a bale out.
However there is some positive news for LDV now from yesterday, an SMMT release.
Guy Jones, PR and marketing director at LDV, writing in a blog at www.ldv.com says news is positive as talks resumed at the UK government's department for Business, Enterprise and Regulatory Reform between the LDV management buy out team lead by Erik Eberhardson and Ian Pearson, to clarify the issues raised in the media. Eberhardson, head of the management buyout announced the day before and Liam Bryne, MP for Birmingham Hodge Hill said "We had a long and constructive meeting with Ian Pearson, the buyout team, LDV management and workforce representatives this morning. Discussions are ongoing and we continue to believe there is a viable long-term future for LDV". The plan would make the Birmingham-based firm the first volume maker of electric vans in the UK. It says it has prototypes of low-carbon green vans on trial with a number of major companies and strong prospects of support from the European Investment Bank
So why are we talking about this.
Just to be completely clear that LDpart and LDV are not connected in any way.
LDpart is not struggling, in fact is positively buzzing. The product range has just been expanded by about 30 items and everything is going well.
Even if we experience a slow down we shall still be here.
LDpart even has a Bank that is healthy and profitable called the Clydesdale Bank PLC and this is owned by the National Bank of Australia. 
However any publicity using the phrase LD, which rubs off, is nice.   Was it Lord Lever or Henry Ford who said in reaction to bad publicity "Any publicity is good publicity"  
LDpart NEWS ! 10 Feb 2009
PAYPAL SCAMS
On the private email, not the Ldpart, we have just received a  phishing mail that is very convincing.
It says that it is genuine and you can tell it is genuine and not a spoof. Genuine Paypal emails will always be addressed to you personally whereas spoofs will be to "Undisclosed. Recipients"
WRONG!    Even the most genuine looking email from Paypal, addressed to your email address  is a scam if it contains links and needs your password. 
The easy way of dealing with these phishing emails is to assume that Barclays, Natwest, Paypal, Ebay etc etc will never email you.
They may send an email saying there is a  message for you, please go to the web site and log on.
But NEVER NEVER EVER log on to any thing connected with money or anything else from a link in an email.
So we sent the highly convincing email to spoof@paypal.co.uk and spoof@paypal.com
and we got this reply
Hello Peter Howells,
Thanks for forwarding that suspicious-looking email. You're right - it
was a phishing attempt, and we're working on stopping the fraud. By
reporting the problem, you've made a difference!
Identity thieves try to trick you into revealing your password or other
personal information through phishing emails and fake websites. To learn more about online safety, click "Security Center" on any PayPal webpage.
Every email counts. When you forward suspicious-looking emails to
spoof@paypal.com, you help keep yourself and others safe from identity
theft.
Your account security is very important to us, so we appreciate your
extra effort.
Thanks,
PayPal
MORAL
Always challenge every single mail you get about your Credit Card, Bank, Paypal , ebay and never ever click the links as they will take you to a password.
If you have already entered you password after following an EMAIL link then change your password now!!
LDpart NEWS ! 6 Feb 2009
SNOWED UNDER
In both senses now, we have orders waiting to go out and we have loads of snow which is stopping the infrastructure from working.
We have not had a postal delivery for 2 days.  We are therefore holding orders as we know from bitter experience that the Royal Mail and Post Office clear backlogs on a "LAST POSTED – FIRST DELIVERED BASIS"
We will start up after the post starts getting delivered again. That is the best chance to avoid items being lost for long periods in backlogged mail.
It used to be the same at Unipart after a transport strike or other hold up 
 All the new orders were despatched first before they started what they called "Rolling in the tail" which in Unipart jargon meant clearing the backlog
Not a Unipart Strike, they were virtually unknown after 1974 when the CEO wrote individually to all 900 or so striking people and told them if they didn't turn up for work on Monday they would be sacked.
They all turned up!   No more strikes!  The company then told the unions a few years later they would no longer be recognised and later, after the company was de-nationalised, all company employees were offered shares at very sensible prices.
Very enlightened management. 
So we are responding to snow now.
The last time we saw snow like this was 1983.  It was a bit later in the year nearer March and hung around for three weeks.  I think what we have now is more like 1963 when it was very bad, or 1947 when everything came to a standstill.
However in 1947 people didn't have cars and teachers cycled to work.  Only the headmaster had a car.  That meant people lived near to work unlike today where they commute all over the place. Result was that the schools never closed  and school was fun as we had these wonderful slides in the playground.
It is not very good for Stags of course and we are reminded of last years SOC AGM in Cumberland where a members stag was stranded in overnight snow with a failed fuel pump. That car however shrugged that incident off and runs as well as ever.
I'm not taking mine out today however!!
.
LDpart NEWS ! 1 Feb 2009
Hoody Stuff
What sort of hood frame do you have , easy peasy, or just plain beasty?
The frame moves easily and sweetly when its assembled correctly.

However I wonder how many of them were done right from day one.

Can you imagine these Triumph workers faced with a huge array of different nuts and bolts
and all having to go in exactly the right place and being on bonus piece work.
<![if !supportLineBreakNewLine]>
<![endif]>
Could you build 25 hood frames a day working against the clock and get them all right?
Supposing you had a couple of pints at lunchtime to boot.

Our hood had a wrong bolt that was just slackened on the production line to get the frame
working and off the line and onto a car. No time to painstakingly redo it.

About 10 years ago I tightened the loose bolt up when sorting an endemic front rail problem and lowered and raised the hood and
bang,
the bolt shot across the garage like a bullet. When I got the new bolt for that position, it
had a longer shank! (Yeh had to find that bullet for forensic). The original bolt was incorrect and had been there since day one.
<![if !supportLineBreakNewLine]>
<![endif]>
No wonder the corner of the frame was broken and was welded up.
All that yanking it around.

The front rail must swivel on the rivet or the hood doesn't go down sweetly. Is yours
broken there?

If you have a beast and not an easy peasy, check out your hood frame.

I advise ordering one each of the different bolts and checking them against what you
have in that frame. When all the right bolts are in the right holes and the front rail
side bars swing like arms on the rivets the frame will open and shut like a dream.
LDpart NEWS ! 23 Jan 2009
No Story for 6 Days
My goodness you have been keeping us busy.
So thank you.  It means that we can put even more parts into stock.
And also big thanks to all the Stag Owners Club forum commentators who said such nice things about us.
However these are somewhat scary times.   With pundits saying the Government of UK is in denial.
With Obama getting what they call the in-tray from hell, and so many expectations of him.
With interest rates at 1.5 % and the lowest since 1652 was it?  And the recession confirmed  today at 1.5% reduction in growth.
We cannot have Liberal Democrat Vince Cable saying its bad, going to get worse and we can't see the end.
He may well be right but we need to hear about a better future.
We need to be able to hope that one day within a reasonable timescale things will get better.
And we hope that people will not fall out of love with their stags.  Actually we think there is very little chance of that so it is this kind of positive mental attitude that keeps us all going when it's difficult, all over the world we can look at our stags.  Yum! there IS something worth looking after because looking at it brings such a good feeling.
It may get looked at quite a lot in the near future because good feelings are not in abundance from other sources at the moment.
LDpart NEWS ! 17 Jan 2009
Wet look gloss.
That shine. How do they do it?  We are talking about the cars at the NEC.
Not just any cars. 
Most cars you look at are poor. You may think they all look very good and rare and nice, but finishwise most are awful.
Get close to them, and look at them under the light. Look very closely and you will see on the vast majority of Classic cars, a scratchy finish. Even the ones on the SOC stand I regret.
There is however one stand which is outstanding in terms of sparkling finish. Well there was last year 2008.
This was the Meguiar's Stand.   (Pronounced Ma-gwires)
The cars on this stand were stunning. Absolutely outstanding.
Since we are up for a bit of bling, we decided to look into this.  We wanted to know which particular treatment produced such stunning bathroom chinaware smoothness in the finish.
Well we are located not that for from Meguiar's place so we will go and find out.  We have the brochure but it needs more work to really get to grips with what is appropriate. For example the type of paint may be important.  Are you two pack or cellulose or good old acrylic?  Do you have a clearcoat overbase as they call it over a solid, i.e. non metallic, colour.
This may all be relevant. We will find out and tell you how to get to that fantastic finish. Of course it may mean us becoming a dealer in which case we will try and sell some of their products.  However we will not do that wily nily. Oh no. We find out first what is what.
LDpart NEWS ! 16 Jan 2009
Dental inspection.
Check out your jackshaft next time you have the front off or do the chains. 
From time to time we hear of something described as a rogue water pump.
This is one that had its gears smashed.
We have always thought this particular phenomenon was a result of incorrectly cut teeth on a rogue Jackshaft.
We believe the water pumps are all ok.  Some of them from the late 80's were said to be soft and lacking the necessary case hardening.
It is true we have seen some that were a less well hardened than others.
However we believe the real culprit is the "off" teeth on the reproduction Jackshaft.
So next chain job, especially if the chains have not covered a high mileage, take off the water pump, pull out the oil pump and distributor drive and get the jackshaft tooth angle measured by an engineer.  You may find this very worthwhile.
We know several owners who have given up on regular water pumps preferring electric but there are issues to solve, like supplying the heater  before the Thermostat is open.
So the original pump is best in our view, as long as all jackshaft the teeth are straight or 45 degrees rather.
LDpart NEWS ! 12 Jan 2009
Spend Spend Spend
What?  Spend?
Yes yes yes. Spend on your Stag. Get it into really good nick.
New panels, spruce up the interior service the car replace all the awful bits.
Take a couple of years over it. Make a determined effort to get your car just great.
Why? 
Because of "quantitive easing".
This means making a few extra pound notes available. Pointless exercise really.  To know why go back to our economy discussion some weeks ago and see pebbles.   
For example, going to our Stone Age example lets say an hour's work is worth 10 pebbles all signed by the village chief.
So the village finance manager decides there are not enough pebbles in circulation because everyone is hoarding them. 
So he gets the village chief to sign as 10% more than is out there.  All of a sudden the ones being hoarded are worth 90% of yesterday.
Everyone spends their pebbles quickly before the value goes down and buys anything that will appreciate as the currency declines.
The last thing they want is savings, cash.  The interest will be nothing anyway.
ART, ANTIQUES, STAGS, yes this is your time to spend money on Parts and put your Stag into top shape.
Only decent cars will be worth money.
When your stag is worth three to four times today's value, sell it.   Let's say 2011 or 2012, giving you two years to restore it.
Then three years later you buy another one as the prices will have come down.
I happened, just like that in 1989/90 during the last recession.
It will happen again only this time we will see the £50,000 Stag, if it is a really decent example.
Interesting ideas!!
LDpart NEWS ! 11 Jan 2009
Stopping phishing.
Here is the answer to a mail we sent to spoof at Paypal
Quote
Hello Peter Howells,

Thanks for forwarding that suspicious-looking email. You're right - it
was a phishing attempt, and we're working on stopping the fraud. By
reporting the problem, you've made a difference!

Identity thieves try to trick you into revealing your password or other
personal information through phishing emails and fake websites. To learn
more about online safety, click "Security Center" on any PayPal webpage.